How to Keep Your Cell Phone Clean
What's on Your Cell Phone? Maybe Fecal Matter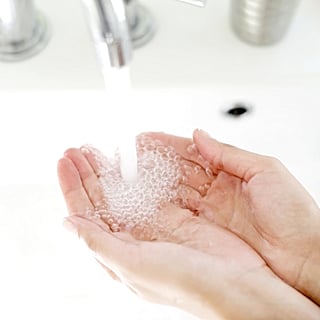 New research from some London scientists is causing a stink about the truth of cell phone hygiene, reports Time. Scientists from the University of London swabbed 390 cell phones and found that one in six phones has E. coli, a bacteria that has poop origins. The cause of this is attributed to people not washing their hands after they use the bathroom.
Although 95 percent of people surveyed claim they wash their hands after going to the restroom, the co-author of the study, Dr. Ron Cutler, says "science shows otherwise." Here are some quick ways to be bacteria-free:
Wash your hands thoroughly after using the bathroom.
Don't touch anything in the restroom directly if you can help it. For example, use a tissue to push the handle when you're trying to flush the toilet.
Wipe your device down with disinfecting wipes occasionally but make sure you squeeze all of the moisture out before doing so.
There are also antibacterial covers available for your smartphone if you want extra protection.