How to Make a Teacup Candle
Transform Chipped Teacups Into Sweet Candles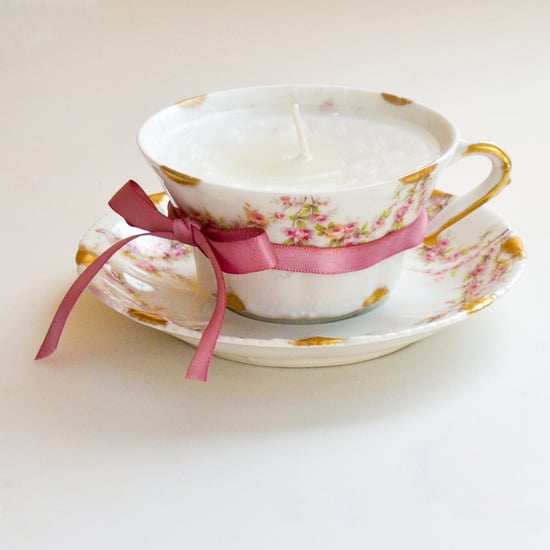 There's nothing sadder than when one of your favorite teacups or coffee mugs ends up with a crack or chip. But instead of tossing out your beloved drinking cup, transform it into a sweet candle. And if you've got the ends of candles around your house, then this DIY will cost hardly anything to make. Simply pick up candle wicks at your local craft store, and you're on your way to making a really adorable candle to enjoy in your home or give as a special gift on any holiday.
Keep reading for the easy directions.
What You'll Need:
Teacup or mug
Candle wax
Essential oil (optional)
Candle wick
Old metal bowl or empty coffee can
Saucepan
Towel and oven mitts
Scissors
Directions
Gather your cracked tea or coffee cups along with any candle remnants. If you don't already have the odds and ends of candles, then you can find candle wax at your local craft store.
To melt the candles, place in a metal bowl or coffee can over a pot halfway filled with water. Bring the water to a simmer while keeping an eye on the candle wax.
Once the wax has melted, place the teacup and saucer on a level work area. Using oven mitts, remove the wax from the heat and place on a folded towel working carefully — this stuff is hot! If desired, add five to 10 drops of essential oil to scent the candles.
Position a candle wick in the center of the teacup, and slowly ladle the melted wax into the cup, filling to the rim.
If filling more than one cup, continue working until the wax is gone. Leftover wax can be melted later to fill any holes or gaps in the candles.
Allow the candle to cool and set before moving. If the center of the candle dips once it has set, then fill with more melted wax.
Trim the wick, tie a ribbon around the teacup, and you've got a sweet candle or gift for someone special.