How to Organize a Desk
Fresh Start Resolution: Organize Your Desk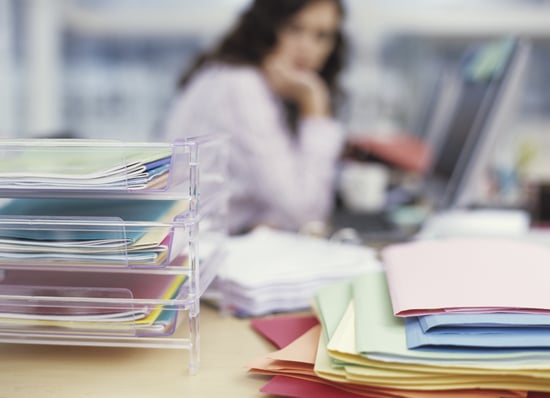 Having an organized workspace will streamline your schedule and boost your productivity, so take some time to assess your desk situation and sort your supplies. Whether you're in need of a major overhaul or just a mini makeover, you can follow these six easy steps to create a clean, clutter-free desk space.
Clear it all out. Before you can arrange your things or add new supplies, you'll need to take stock of what you already have at your desk. Begin by emptying any drawers and pulling folders from the shelves. As you remove the items, sort them into categories: keep, toss, and undecided. Set the undecided pieces aside to deal with later.
Sort by type. Divide the keep pile into loose papers, folders, tools, and personal items. Designate specific drawers or shelves for each category before moving forward, and remember to arrange them in a way that's tailored to your work habits.
Deal with the paper situation. Every piece of paper should be put into a folder or file, even if it's just a "deal with later" folder that you check at the end of each day. Loose items can get lost, so it's important to create a space for every document.
Keep reading for more desk organization tips.
Decide what's important. Evaluate the items in your keep pile and pull out anything that you use on a daily basis. You'll want to make sure that those pieces are stored in a convenient, easy-to-reach location. Store all tools — scissors, tape, ruler, etc. — in one drawer and all personal items in another. Take a moment to consider which things you rarely use and plan to store those in a tougher-to-reach box or drawer.
Classify, arrange, highlight, and tab. Now that your things are properly divided, go ahead and divide them into even smaller groups. Use standard organization techniques — tabbed portfolios, file folders, and color labels — and take advantage of any organization products that are provided by your office. This is the time to take care of the undecided pile, too, so use your best judgment to allocate those items among the categories you've just created.
Vow to maintain. Make a conscious effort to keep things organized and clear your desk at the end of every workday. Ditch the habits that led to an unorganized space in the first place, like haphazard Post-it usage or piles of loose paper on your filing cabinets. As time goes on, decide which methods work for you and which don't, and refine your organization process to suit your needs.
Do you have any desk organization tips? Share them in the comments below!