Entryways are quick to become cluttered, but a few extra hooks and an extra piece of furniture can turn a messy foyer into a functional, stylish room. Not sure where to start? From a practical shoe tray to numbered coat pegs, these 15 simple design tips will help you organize your entryway — plus these gorgeous photos will serve as inspiration.
Put Vintage Boxes to Use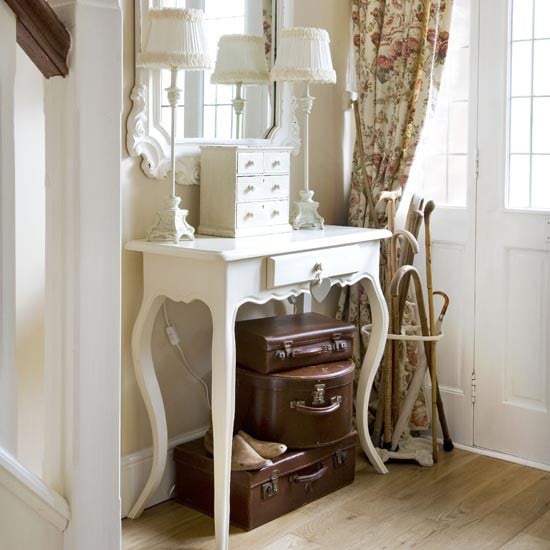 Ever considered keeping things beneath a table? Stack vintage luggage or hat boxes beneath a dainty table for a stylish, practical storage option.
Add a Bench and Pegs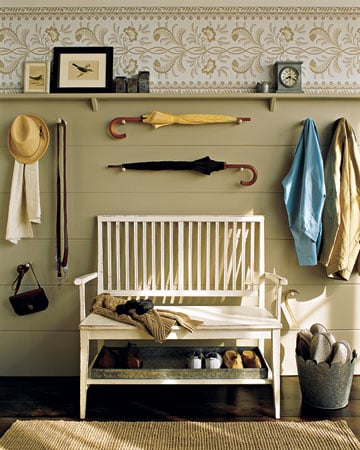 Turn your entryway into a functional work of art by adding pegs for umbrellas, hats, bags, and coats. The bench grounds the space and makes it the perfect spot to get ready, and the handy shoe tray offers extra semihidden storage.
Work With the Space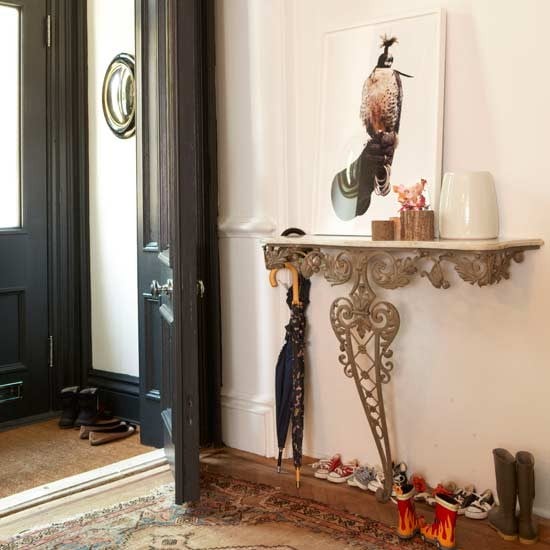 Don't have lots of room in your foyer? Stick to a superslim table where you can add tiny knick-knacks — or tiny baby shoes.
Add Shelves — Lots of Them
Maximize your space by installing shelves for extra storage. Keep things neat and clutter-free with woven baskets or boxes.
Hang Your Hat(s) Use the entire wall: add hooks high above the floor to hang hats and get them out of the way. Not only is it a great way to make use of the space, but it also visually balances the proportions of the hallway.
Stow Your Books Keep things colorful and full of personality by choosing bright furniture and leaving your books on open shelves. Make it easier on the eyes by creating a sense of symmetry and using neutral decor throughout the rest of the space.
Create Numbered Storage
For a cheeky, functional touch, try numbered hooks and baskets where each family member can store their items.
Conceal Your Must Haves Rather than leaving a tray of keys near the door, invest in a gorgeous piece of furniture where you can hide your random entryway essentials.
Try a Boot Tray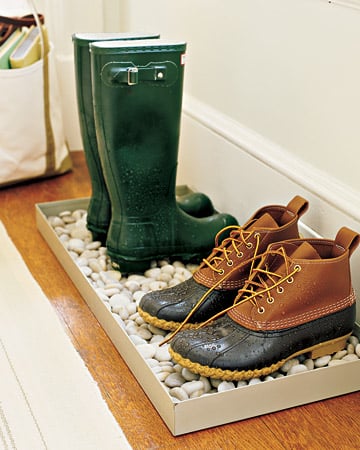 Avoid foyer puddles by putting a pebble-filled tray near the door. Rain and snow will drain to the bottom of the tray, and although most of the water will probably evaporate, you should definitely empty and wash the tray regularly.
Go For DIY Design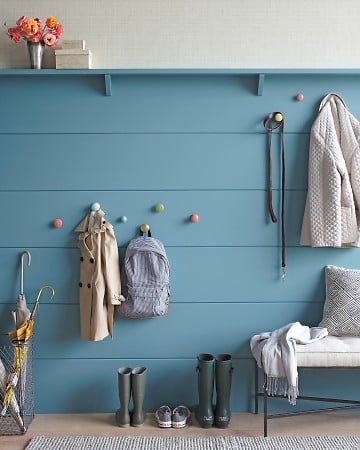 Place knobs at varying heights to accommodate a family of all sizes. Don't be afraid to play around with shapes and color because a mismatched look seems trendy and purposeful.
Pick Furniture That Fits Make the most of every nook and cranny by finding furniture that fits the space perfectly. An oversize cabinet is ideal for extra storage, and it helps to make the entryway feel more like a functional room.
Try Eclectic Storage Pair an antique chest with a comfortable chair for a space that's both practical and well-designed. You'll have plenty of storage space inside the cabinet, and you can stack any extras on top to add a bit of personality.
Use a Coat Rack No closet? No problem. Add a contemporary coat rack for a cool look that's both functional and trendy.
Fill the Space If you have an extralarge entryway, take advantage of the space by adding a full chest of drawers, a coat rack, and multiple tables for storage.
Opt For Practical Minimalism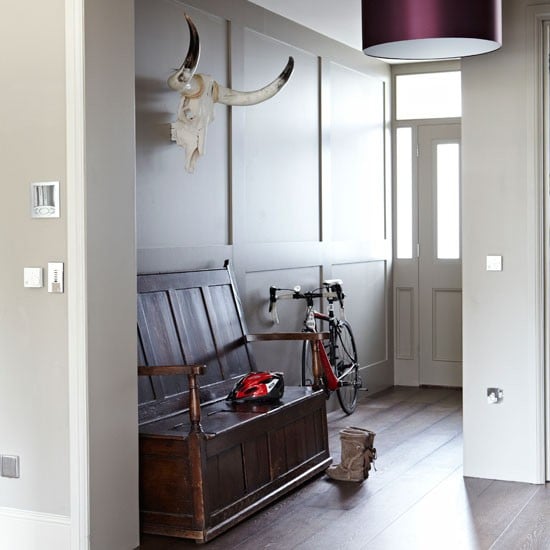 Go sleek and simple with a sensible bench that doubles as a storage chest.