How to Plan a Wedding Guest List 2011-04-19 03:05:47
Wedding Guest List: 6 Money Things to Consider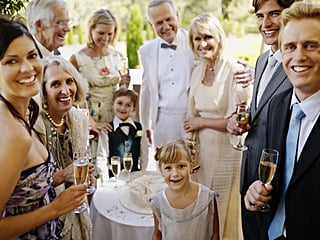 Ah, the wedding guest list — you're excited to celebrate with your loved ones on your very special day, but you're also alarmed at the rapid pace your list is growing at. Don't let your wedding guest list get out of control, and read these six money tips from The Broke-Ass Bride's Dana LaRue.
Guest List Musts and Wants: Start by segmenting your guest list into musts and wants. Put the people you absolutely must invite (like immediate family or closest friends) on one list, and the people you'd really like to include (like co-workers, newer friends, second cousins etc.) on another, to help you keep perspective on the numbers. Every couple has different priorities on who to invite, so don't feel too pressured by traditional etiquette's rules.
Compromise With Your Partner: If you and your partner have opposing ideas pertaining to the size of your guest list, consider a compromise. Plan an intimate ceremony with a big reception afterward, or elope and have a hometown party to celebrate with friends.
The Kiddy Factor: Deciding if children should attend is always a conundrum, but if budget is a concern, check with your caterer. Many catering companies don't charge for children's meals, so ask what their "cut-off age" is for kiddies and let that inform your decision.
For more savvy wedding guest list tips, read on.
Cut Back on Other Areas: If your guest list is ever expanding, but you can't bear to leave out your postman and dog groomer, look at cutting back in other areas. Limit your bar to just beer and wine, or plan a laid-back picnic atmosphere to cut down on rental costs.
Set a Guest Count: If you're paying for the majority of the wedding yourselves, set boundaries with your families by allocating each parent a number of guests to invite and sticking to it.
Establish Ground Rules: If your family is paying, or making a large contribution to your budget, discuss guest count expectations up front and try to establish some ground rules to avoid misunderstandings, late additions, or guilt trips from left field. Try setting a target number of guests they can invite, and see if they'll agree to fund the costs of any overflow they might encounter if they get too "guest-list happy."