How to Save Money as a Wedding Guest
Dance Through Wedding Season on a Budget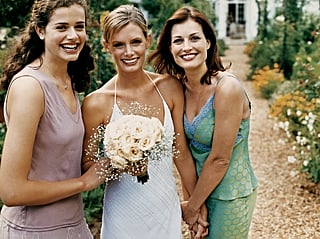 We're thrilled to present this smart LearnVest story here on Savvy!
Flowers, dresses, friends, yummy food, cake, and dancing. What's not to like about weddings? Well, just one little thing: its drain on our bank accounts.
Getting married is a big deal, and you want to be there to celebrate with your friends. But that often entails shelling out for an engagement gift, a shower present, the bachelorette party, the wedding gift, a dress to wear, the right shoes–plus, hotel and transportation if the wedding isn't local.
Multiply that by the number of weddings you have in a year, and your friends' nuptials can put you in the poorhouse.
Make your way through wedding season gracefully while going easy on your budget with these tips:
Gifts 1. Be The First Person On The Registry
"Get in on the registry early so you have the widest variety of price points available," says Amy Eisinger, associate editor of WeddingChannel.com. This way you won't be stuck with the $800 mixer or the $10 napkin holders.
2. Buy A Registry Item—From Another Site
One of our staffers loves this savvy tip. Registries are often just a representation of what the couple is in need of, and they may not be wedded to the exact version they selected. Search online for a gift from the registry to see if you can find the same or similar item for a lower price. After you've placed your order, go back to the registry and mark the item as fulfilled. Don't use this tip for the patterned china, of course—stick with items that are likely to be more generic, like towels or kitchen appliances.
3. Go In On Group Gifts
Team up with a few friends to get a present beyond your budget. Perhaps each of you pitches in $100 to get them a few nights at a B&B for a getaway weekend, or you each drop $50 to get them a couples massage.
4. Buy In Bulk
This one is a bit trickier. There aren't that many things you can buy in bulk that you'd actually give as a wedding gift, but we did think of one great wedding season standby: champagne. Get a discount case, and it can be your no-brainer go-to gift for showers, engagement parties, and other wedding events.
For more ways to save your bucks during this pricey wedding season, read on.
5. Wrap It
This especially applies for the more inexpensive presents that you'll be bringing to the engagement party, shower, and bachelorette party. "You can't underestimate how nice a gift can look if you use nice tissue paper, a really cool ribbon, and a faux flower," says Eisinger. A lovely and thoughtfully penned card also brings a lot of meaning to the gift recipient, no matter the gift's price point.
Travel 1. Research All Options When Booking Airfare
Use www.rome2rio.com to find out the fastest way to get there. If flying makes sense, find out if you can use your miles (unless the ticket is cheaper than what you spent to earn those miles). Check out all the best bargain flight sites. Later this month, Groupon launches its partnership with Expedia–Groupon Getaways–so add that to your list.
If you're flying into a city that is not a major hub and has higher ticket prices, take advantage of "hidden-city ticketing." This means searching for fares to a more popular (and cheaper) destination that might stop over in your target city – i.e. search for Houston instead of Memphis, or Los Angeles instead of Salt Lake City. If you get off the flight during the layover, the airline won't notice. Just be sure to do two things: 1. Book a one-way for each leg, because otherwise, the airline will cancel your return flight, and 2. (duh) Don't check your luggage. It will end up far away from where you'll be!
2. Nab A $3/Hour Car Rental
The latest trend in car sharing is "peer-to-peer" car rental. Avoid pricey car rental fees by "renting" a car from a local for as little as $3 base price from Getaround, or slightly higher prices ($5-$7/hour) at other sites such as RelayRides and JustShareIt. These services are relatively new and are not available in all cities, so do your research ahead of time.
3. Consider Staying At A Different Hotel
While the bride and groom's block of rooms will generally be the cheapest you can get at their chosen hotel, look at other options in town. Just beware that if you stay away from the main party, you may have to pay for transportation to get to and from the wedding festivities. And if you have to drive, you may have to forgo the champagne.
4. Share
If you're attending a wedding as a single, ask the couple to connect you with a few other singles who can share a hotel room or a car rental.
5. Avoid Peak Travel Times, And Stay Only As Long As You Need To
Stay as few nights as you can and fly at off-peak times. For instance, flying Saturday morning instead of Friday night might land you a cheaper ticket—and save you on a night's accommodation.
Fashion And Beauty 1. Get One Dress
Go for a simple dress that you can style in a number of ways. We recommend a classic jewel-tone silk dress that you can accessorize with colorful shawls, jewelry or shoes to give it a different look each time–and that you'll be able to wear later as a cocktail dress.
2. Buy One Pair Of "Wedding Season" Shoes
Instead of worrying about shoe pairings with all your different outfits, invest in one uber-versatile pair, like these, (we dub them "the wedding season shoes"), which not only work with a variety of colors and styles of dresses, but can take you from a beach wedding to an afternoon shower to a black tie reception.
3. Shop Rent The Runway Weddings
Consider shelling out just $50 to rent a designer dress from Rent the Runway Weddings, especially if you only have a couple of weddings this season, or have more than one wedding in a weekend (since you can keep the dress for a few days). However, if you have five weddings this summer, you could easily buy something for the $250 you'd spend to rent a dress each time.
4. Shop Your Friends' Closets
Ask a girlfriend the same size as you if she wants to trade dresses. But if you end up wearing one of her frocks, be even more careful with it than you would be with your own. You don't want to have to buy her a replacement.
5. Hit The Beauty Counter
"Don't get anything professionally done. Do it all yourself — hair, makeup, nails, etc.," Eisinger says. If you need to buy new makeup anyway, head to the beauty counter where you can get a free makeover and learn some new tips–just know that etiquette requires that you purchase a couple of items.
To learn how to make and stick to a wedding budget, read on.
If you're a bride on a budget, check out our tips for scoring a cheap wedding dress and getting fit without busting your budget.