How to Simmer Spices
Scent Your Home With Coffee Filter-Simmered Spices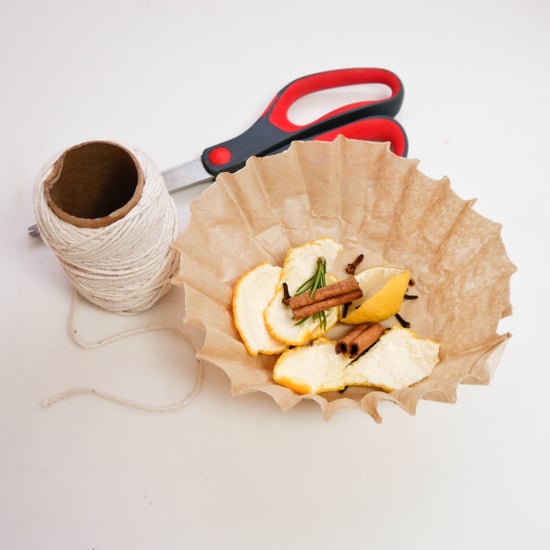 Put your coffee filter to good use, along with your orange and lemon peels, and simmer some seasonings. You'll love how the scent wafts into the air — making your home smell good — and how it puts your odds and ends to good use. Traditionally, mulling spices are delicious a combo of goodness used for flavoring Autumn drinks, but it's OK to ditch convention and mix together any wonderful-smelling bits hanging around. And, hey, if you want to simmer that flavor packet in some red wine, we won't say anything.
Here's how to scent your home.
What You'll Need:
Coffee filter
Orange, lemon, or apple peels
Ground or whole peppercorns, cloves, and cinnamon
Ends of fresh herbs, such as rosemary or thyme
Raisins, dates, or apple slices
Cotton string
Scissors
Small saucepan
Directions:
Gather the ingredients for making your spice bag. Really, just about anything that smells good works. And it's a great opportunity to clean out your spices. For scenting your home, cinnamon sticks, orange peels, lemon ends, and rosemary create a really homey Fall smell.
Pull together the edges of the coffee filter, and secure with a length of cotton string. Now bring a pot of water to a simmer, and pop in the coffee filter packet.
Once things get going, your home will smell amazing! And you can keep adding water, which makes the simmered spice smell last all day. Pull out the packet when you're done, and save it for another day.