How to Be a Stay-at-Home Girlfriend
Stay-at-Home Girlfriend: Another Way to Say Unemployed?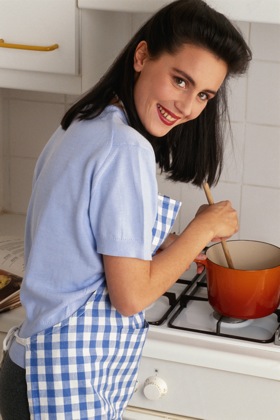 In the great debate about the modern housewife, many people think the choice to not work outside the home makes the most sense once kids enter the picture. Raising children involves a lot of work and reward, and you can also save real money on childcare. When asked, 25 percent of TrèsSugar readers said they'd only consider becoming a stay-at-home mom, not just a stay-at-home wife. But now we have a new category to discuss: the stay-at-home girlfriend, or SAHG.
Writing for Brokelyn.com, self-proclaimed SAHG Quiana Stokes offers her tips on how to survive when your boyfriend goes off to work, while you stay at home. I would declare it fake, but the writer provides ample earnest details that leave me with the eerie feeling that it's real. She says she never planned on the lifestyle but ended up a stay-at-home girlfriend after she lost her job. Today, keeping her boyfriend happy is her primary occupation after job seeking.
Quiana says she and the other SAHGs she knows "adhere to stereotypically Stepfordish rules to keep our relationships afloat and ourselves sane." Some include: don't sleep in (get up and make him breakfast), keep the place clean (that includes picking up his clothes from the bathroom floor), cook or order dinner every night, keep yourself up (buy an at-home wax kit!), pamper him, observe sexy time ("there's no real reason (time of the month aside) why I shouldn't be ready and willing when he is"), and leave the house.
It's only fair that you pick up some slack around the house if your partner supports you while you're looking for a job, but couldn't taking on the identity and responsibilities of a full-time house-girlfriend distract you from job hunting? It also significantly shifts the relationship dynamic. Maybe Quiana and other women would prefer doing this full time over a corporate job, although I'd suggest getting a legal commitment before taking yourself completely out of the job market. Would you?