How to Use Mileage to Get Free Flights
3 Easy Steps to Becoming a Mileage Pro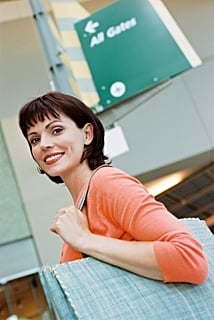 I've never really gotten into the whole frequent flier miles game, but I'm starting to think I should. It's just that I fly on so many different airlines (depending on which one gives me the most bang for my buck!), so it's quite overwhelming to organize. However, I just had a mileage lightbulb moment after I read this piece by The Frugal Traveler. He shares some great tips on how to start workin' your miles:
Organize to Maximize: The first step to start making sense of your miles is to be organized, and you can do it easily online with sites such as AwardWallet.com and UsingMiles.com. It's kind of like the Mint.com for air travelers. The best thing about these sites is that you get to manage all your other rewards accounts, which includes hotels, credit cards, retailers and car rental companies.
Learn to Earn: There are plenty of other ways to earn miles besides buying a plane ticket. To learn how to get miles without stepping foot on a plane, you need to first pick one airline that you're keen on racking up miles from; one that you often frequent would be ideal. For example, I picked American Airlines, and discovered the different ways I can earn miles from The Points Guy blog. It's hard to comb through all the material, so The Frugal Traveler recommends to go directly to your airline's category such as American or Delta. I found out about the AAdvantage eShopping mall, which will give me miles along with my purchase from any of its partner retailers. I also learned that if you sign up for an eShopping mall account before May, you'll get 500 miles for free! Keep yourself updated on all the offers available from the airline through the blog or subscribe to your airline's offer alerts.
Read on to find out how to use your miles like a pro.
Calculate Your Miles: Pick a destination that you want to go to then calculate the approximate price of a ticket on the dates you would like to fly on. When you've figured out the price, try to see how many miles it equates to. That will help you keep in perspective of how many miles you need to achieve a free ticket. For example, I was looking at flights to New York from San Francisco on a weekend in August and calculated that I needed 37,500 miles for the trip. Knowing how many miles I need to make that trip will help give me perspective when I'm earning points on various reward programs.
I'm now a frequent flier convert. If you follow the steps and start by organizing with AwardWallet or UsingMiles, collecting and using mileage really isn't that hard. Sure, it takes a bit more work and effort, but the outcome is definitely worth it!