How to Work From Home and Be Productive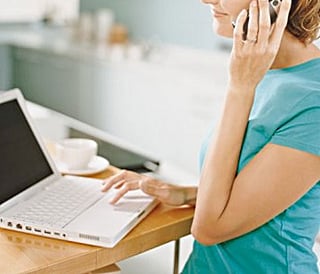 Oh, the glorious couch! Working from home has many advantages: there's no commute, none of the same distractions you have in an office full of people, you can walk your own dog, save money on lunches out, and the list goes on. The big downside to the arrangement? It takes discipline. Here's my best advice for staying focused and checking off the list.
Get Dressed — It may sound trivial, but you'll feel more productive when you're not working in the same clothes you slept in. I love pj's as much as the next person, but oversized drawstring pants don't exactly scream time for work. Shower and put on clothes that you wouldn't necessarily wear to bed.
Organize Your Day — There are even more ways to procrastinate at home than at the office. Laundry suddenly sounds like a blast when you're on the hook for a less than exciting project. Use time goals, like writing down what you'll accomplish before noon, and keep an up-to-date to-do list to organize your priorities.
For additional helpful tips for working at home,
.
Set Up an Obvious Workspace — Your couch is meant for relaxing, not working, and you'll get a lot more done by sitting up in a chair. If you don't have space for a desk, occupy part of the kitchen table during your workday. If the couch keeps calling out to you, use it as a reward: for example, finishing a task by a certain time allows you to work from the couch for an hour.
Get Out of the House — Your home is your office, so it's important to mix up the scenery to beat cabin fever. Use what would normally be lunch time to exercise, walk somewhere to get lunch, or run errands. At the very least, take a walk around the block on busy days just to get some fresh air.
Separate Your Work Life From Your Home Life — Make your work hours clear to yourself and others. Otherwise, you'll have friends calling any time thinking it's always a good time to talk, and you'll end up working when you should be spending time with your family. It's about establishing boundaries so you can actually get work done from home while keeping your home life intact.