IRS iPhone App
Savvy Tech Tool: IRS2Go iPhone App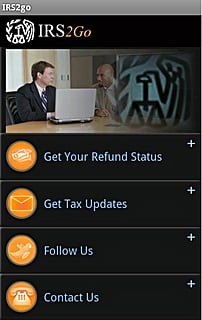 The IRS has just released their first iPhone app, IRS2Go, today, which will allow users to check their tax refund status, useful tax info, and other IRS updates. So far, only Android and iPhones will have access to this free app. This technological move is just the "first step" towards modernization and it will be looking "for additional ways to expand and refine our use of smartphones and other new technologies to help meet the needs of taxpayers," according to an IRS press release.
I just downloaded the app on my phone (you can find it in the iTunes App Store and the Android Marketplace), and it seems pretty easy to use, as it's still very basic. What you need to do to check your refund status is to enter in your social security number, filing status, and the refund amount you're expecting.
I can't wait to see how this iPhone app will evolve. Who knows? Maybe one day we'll be filing taxes from our smartphones. Is this an app you would download?