Important Travel Items
Adventure Girl Lists Her Luggage Must Haves
In my interview with Stefanie Michaels a.k.a. Adventure Girl, the travel and tweeting expert shared some really great packing tips. Read what she has to say and take a look at my picks below for Adventure Girl's luggage must haves! Stefanie says:

It's about the carryon. I've learned to pack two week's worth of clothes into a carryon. I know nobody can believe it — it'll weigh like 50 pounds! What is essential are those vacuum bags or the ones you roll the air out of. If I know I'm going somewhere where there is a vacuum, I'll use the vacuum bags, if not I'll use the bags that you roll the clothes in, press the air out, and seal them. You can get about twice as much packing by doing that.
Unless I'm going somewhere really remote, I usually ditch the shampoos and I purchase them wherever I'm going, plus you can't take them on a carryon through security. I always bring a pair of slippers because when you're on the plane you take your shoes off. Definitely earplugs, and a little black dress. No matter where I am, I pack a little black dress. You never know when you're going to need to have a little bit of dress-up. A pair of flip-flops, a pair of heels, and jeans, always a pair of jeans.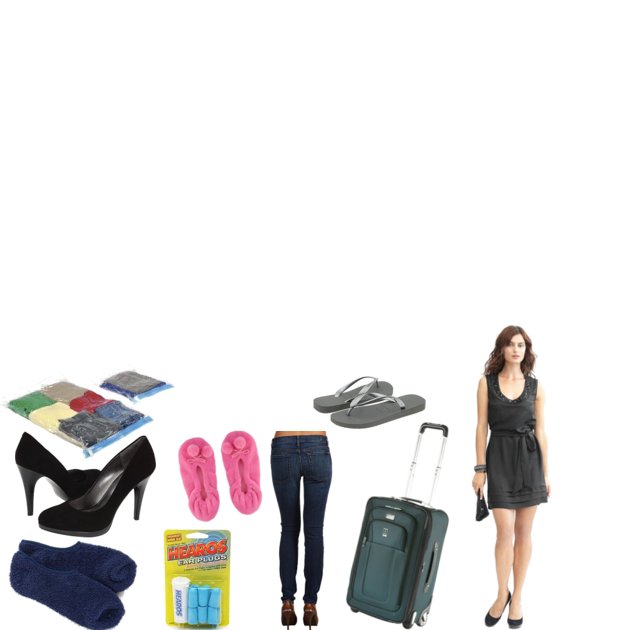 Clockwise from top left: 2-pc. Vacuum Travel Bag Set ($8), Pink Soft Fleece Slippers ($6), Seven Skinny Jeans ($150), Silver Havaianas ($19), Silk Beaded Black Dress ($175), Black Suede Heels ($63), Ear Plugs ($4), Travelpro Carry On ($133), Brookstone Travel Slippers ($10)