The Influence of Michelle Obama and Oprah Winfrey
Michelle Obama Vs. Oprah: Who Has the Bigger Effect?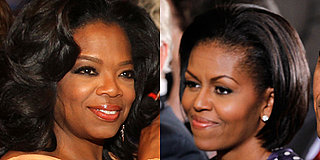 Michelle Obama and Oprah Winfrey are definitely forces to be reckoned with. Companies see huge returns when one of them endorses their product. An analysis by the Harvard Business Review showed that stock prices of a clothing company would soar whenever the first lady wears its products. The author of the findings, professor David Yermack, estimated a $14 million value for an appearance by Michelle wearing the retailer's outfit.
On the other hand, Oprah's influence is so large that it even has a name: the Oprah Effect. Countless studies and documentary have been done on Oprah's wide-reaching influence, and we've seen plenty of unknowns skyrocket into fame. She creates primetime TV personalities (Dr. Phil and Dr. Oz to start with), sends books straight to best-seller lists, and gives firms a 1,000 short-term percent growth whenever they receive a mere shout-out from her.
Forbes recently ranked Michelle as the most powerful woman in the world and ranked Oprah as third. I'm wondering if you agree with the Forbes list, and I want to know who you think makes the bigger impact — Oprah or Michelle?