Interview With Christin Evans of Booksmith Bookstore
In Her Shoes: Christin Evans, Independent Bookstore Owner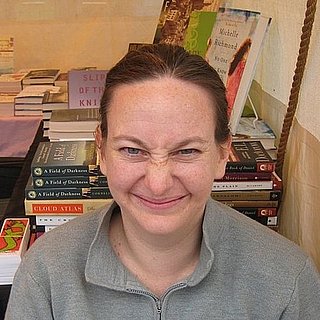 Christin Evans takes the cake this week for the ultimate dream job, because The Booksmith owner is doing her community a great service by matching up book lovers with great finds. In addition to that, she's also breathing life into the floundering breed of independent bookstores, which are being overwhelmed by Borders, eBooks, and sites like Amazon. Christin and her husband, Praveen Madan, bought the San Francisco-based bookstore three years ago, and have never looked back to their previous corporate and business suit-filled lives.
SavvySugar: How did you get into this?
Christin Evans: I was actually a management consultant for many years and helped big companies get bigger. After I had done that very successfully for many years, I kind of got to the point where I said am I having an impact or am I just helping Microsoft get bigger or helping Bill Gates get richer? So I took some time off, and spent a year thinking about a lot of different business ideas. Then I stumbled on the idea that independent bookstores really haven't been recreated for the 21st century. Most independent bookstores were started 20, 30, 40 years ago by book lovers who really nurtured their stores during the hay day of paper and hardcover books. But then with the arrival of chain stores, then Amazon, now eBooks, there continues to be lots of pressures on independent bookstores. Over a decade ago, there were more than 5,000 bookstores in the U.S. and now there are fewer than 1,200, as measured by the American Booksellers Association membership. The way I came into this job is because I found it an intellectual challenge, I was always a reader, but I also saw it as an opportunity to try to create an independent bookstore that would be able to sustain . . . thrive in a technology era.
To read more about Christin's wonderfully bookish life, read on!
SS: How have you grown the bookstore?
CE: The bookstore does over 200 author events a year. Many of those events are ticketed events. For example, we started something called the Booksmith Bookswap, which is not a traditional author event in the sense of the author standing up and reading from their book. But rather, it's an opportunity for people to come together over some wine, good food, and talk about books they have recently read or just loved. In some ways it's almost like dating or matchmaking. It's not a singles event, but there has definitely been more than a few relationships started out at the Booksmith Bookswap! Every other month and a half we hold a Bookswap and they sell out every time. It's just a really fabulous way to strengthen and build the community around the bookstore so readers are coming together to have conversations about books that they love.
SS: How will independent bookstores fare in this digital age?
CE: We really focus on books that are really exciting and their physical beauty. There are a lot of publishers, not necessarily big publishers sometimes small ones, which are really focusing on the book as an object. So [they'll produce books with] beautiful leather pressed covers and gorgeous illustrations. What eBook works really well for is when you need a quick thriller or read on the bus. If you're on the road it's great to have any type of book on demand. But the thing about bookstores is that you're slowing down and really appreciating the physical beauty of a well-crafted book. We also sell a ton of literary fiction and a lot of people that live in our neighborhood are very cutting edge with their literary culture. We have many writers in the neighborhood including Daniel Handler who is Lemony Snicket and by virtue of being a culturally creative neighborhood, we have authors that are shopping at our store every day. Several well known published authors would come into the store every day just to browse, to see literary treats and delights that are out on our table. They will peruse them and read back covers. Again it's more about discovery of new titles. That experience is not really matched at all by an electronic device.
SS: What would people be surprised to learn about independent bookstores?
CE: There is a ton of cool new independent bookstore owners that have really started to make a big difference in their community. There are new bookstores that are opening that typically have a very strong focus. Here in [San Francisco] we have Omnivore Books, a food-focused bookstore that's doing really, really well. There's a wonderful art design bookstore that's been around for many years that's terrific. It's called William Stout. If you're an architect or interior designer, you'd love that store. Sometimes people have a misconception that an independent bookstore is kind of a stodgy, unexciting kind of place when there's actually a ton of really exciting vibrant independent bookstores out there if you know where to look for them.
SS: How does the selection of books at independent bookstores compare against chain stores?
CE: People always think that Borders and Barnes and Nobles have a bigger selection. My opinion is that they actually have less selection. Although they may have more books, they are just featuring the same books in volume and quantity and they're usually books that you already know about. Whereas independent bookstores really take the time to curate and create a collection that's unique to their neighborhood.
SS: Do you recommend books to your customers?
CE: Absolutely. We have a lot of regulars. A lot of people have specific interests and we're always keeping on top of what's new in their area. One of the best things to do if you're always looking for a new wonderful title to read and if you're an avid reader is just to find your bookseller soul mate — a person who loves to read what you read and will always have the latest and greatest books that are going to be really interesting to you.