Interview With Elizabeth Jayne Liu, Flourish in Progress Blogger
One Woman's Journey to Find Herself by Quitting Shopping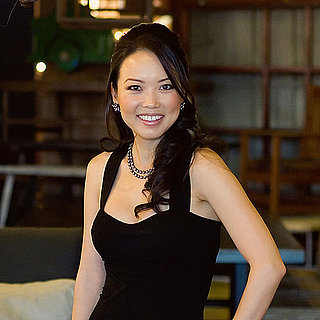 Beautiful and married to a successful man who supports her shopping habits, stay-at-home mom Elizabeth Jayne Liu, 30, sounds like a person that women might dismiss as being shallow. After all, resolving to quit shopping for a year doesn't quite sound very soul-searching.
However, as she chronicles her eventful year without shopping in her blog, Flourish in Progress, readers get a glimpse of the true story. No, Elizabeth's life hasn't always been the pretty picture it is now — she was a runaway teen mom who struggled by on welfare, working odd jobs at a dry cleaner's and other similar establishments to scrape by. Then in a whirlwind fashion a few years ago, she found herself with more to spend after reuniting with a well-to-do childhood pal and marrying him after only 18 days of dating.
To hear what she has to say about her no shopping journey, read on.
SavvySugar: Why did you decide to quit shopping for a year?
Elizabeth Jayne Liu: I started the no shopping project because I was turning 30 and I wanted to do something worthy of a milestone birthday. Before I married my husband I was a single mom for about seven years so I was always on a budget and I could never really buy anything except for necessities because I never really had the money. My husband is a successful hardworking person and I thought that when I married him and I could start shopping it would sorta fulfill all the little holes and desires but what I realized after being married for several years . . . I wasn't necessarily any happier just because I had more things and shopping was becoming a huge distraction to me.
SS: Was it hard to give up shopping?
EJL: Oh my goodness, it's still hard. It is still so hard! When I started the project I unsubscribed from 111 retail emails. I didn't even realize I had that many. My husband and I had a bet and before I started going through my email inbox to unsubscribe I asked him, "How many do you think I am going to have?" and he said, "Oh, about 30 to 50," and I kind of laughed because I thought that's ridiculous I'm not that much of a shopaholic. As I was unsubscribing I kept a list and when I ended at 111 I thought oh my goodness this is ridiculous.
SS: Have you received any negative feedback?
EJL: 99 percent of the feedback has been extremely positive. The longer I blog, the more personal I get on the blog. Last week I admitted that I accidentally smoked crack and I was like oh my goodness I'm going to get so blamed for this — and not one person put anything negative or any negative comments. After I admitted that I smoked crack someone admitted, "I've never told anyone this but I think I'm an alcoholic." That is incredible that other people were coming out and sharing things about themselves and I feel that as long as I'm really honest . . . I think it gives more people license to be really honest with me as well. The only times I have gotten some really negative heat was when I did an interview for CBS about a month ago and that was really the first time that people were like, "How is this story interesting? This is about a wealthy uninteresting woman who decided to give up shopping. Big whoop." A lot of people wonder why would you give up shopping if you're not in debt or what not, but I feel like that's such an odd question. Can I only pare back if I'm in financial distress? It makes no sense to me. I feel like it's really important to convey the fact that I'm not doing this because I have $25,000 in credit card debt — I'm really doing this for self-improvement.
SS: How do you react when you hear people call you a wealthy uninteresting woman?
EJL: First of all they don't know the whole story. I have been very, very poor — I spent time on welfare, I've collected food stamps before I got married. There is a restaurant in LA that I used to dress my daughter up and go to because before you sit down, they give you free meatballs and chips. I would sneak her in and we would get the free meatballs and chips and then sneak out and that would be our dinner. I just don't feel like anyone who makes those comments knows the whole story, which I totally disclose on the blog, and I wish they would take a minute and read it before slamming me.
SS: You don't seem to talk much about shopping on your blog. Why is that?

EJL: I rarely talk about shopping or not shopping on the blog because I quickly realize it's very hard to talk about something that you're not doing and more important to focus on things that you can do and that you are doing — so every week I have something called the Monday Dare and initially it was shopping-related like I wanted to use all my pennies or I wanted to wear all the things that I had accumulated, but it sort of transformed into anything that I wanted to do with my life, mostly small things. I gave up swearing for a week and one week I told the complete and utter truth and it's just really been chronicling my year as finding happiness so that's why I gave up shopping — I wanted to see if I could increase my happiness with just doing things I normally wouldn't do and taking myself outside the comfort zone.