Interview With Jill Martin
In Her Shoes: Jill Martin, Fashionista Sportscaster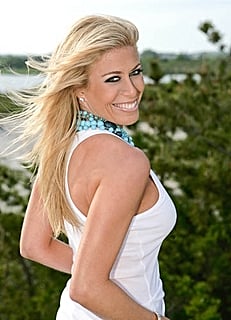 Fashion and sports, never the twain shall meet . . . or so you think! Jill Martin actually works in both of those industries as a fashion contributor on NBC's Today Show, a New York correspondent for The Insider, and a reporter for the New York Knicks. Read all about her fabulous life!
SavvySugar: How would you describe your job?
Jill Martin: Well, I am like a glorified bag lady because I actually have four jobs so I am constantly schlepping back and forth! But . . . the first word that comes to mind? Amazing. Every day is a different adventure and I wouldn't have it any other way. Some days I make three or four stops starting at 5 a.m. Here is an example of a circus day.
5 a.m.: Wake up and off to Today for Ambush Makeover.
7 a.m.: First shot in the Today plaza picking our makeover-ees.
10 a.m.: Live with Kathie Lee and Hoda on set
1 p.m. Insider Interview — recent one to one interviews include Donald Trump, Vera Wang, and Paula Abdul.
3 p.m.: Meet with my coauthor Dana Ravich on our book "I have Nothing to Wear!" coming out in August.
5 p.m.: Knicks production meeting
7:30 to 10 p.m.: Knicks game
11 p.m.: Pass out!
To hear all about Jill's most exciting interview, read on.
SS: What was your most exciting interview?
JM: I was covering Chelsea Clinton's wedding. Picture hundreds of cameras, thousands of people, and endless reporters searching for a glimpse of the Clintons. I swear, I was there 10 minutes, and Bill Clinton stepped out of an Escalade and started to walk down the block. Of course, I bolted and pushed my way right next to him as he walked down the street. The secret service surrounding him actually yelled at me to stop shoving everyone out of the way. (I have it on camera to prove it.) Anyway, I got the only sound bite from him from the weekend. He told me how excited he was and how much he loved his new son-in-law. Needless to say, the Insider team was thrilled!
SS: What is it like juggling both sports and fashion?
JM: It is amazing to be a part of both worlds. The Today Show allows me to reach so many women and share fashion tips and trends. The Insider lets me delve further into the world of celebrity and share things people may not know about the world's most familiar faces. My work with the Knicks allows me to reach an entirely different demographic. You would be surprised though how much these three worlds collide.
SS: What is your favorite sport and why?
JM: Basketball, because I cover it and I'm good at it. I was actually captain of my team in high school. I love the action and pace of the sport. Working at Madison Square Garden is beyond thrilling. Players play when they come to NY because of the history and importance of the venue. This year, with the addition of Amar'e Stoudemire, The Garden is electric again. It feels like it did in 1999 when the Knicks were in the finals. Some nights you get goosebumps. If you haven't experienced a game at MSG, put it on your bucket list!
SS: Who is the best dressed NBA player?
JM: I'll tell you who is the best-dressed former NBA player. That is easy! Walt "Clyde" Frazier. I work with him on the Knicks broadcast team and he is always dressed to kill. His suits are outrageous, but I like any outfit that reflects someone's personality. Google Clyde and check out his looks . . . he is every bit as fabulous as he looks!
SS: Tell me about your best day on the job.
JM: Wow. That is a great question. I may steal that question for my next interview. I feel like too often we address the worst days rather than the best. OK, I guess, I would have to say it was in 2006 when the Miami Heat won the championship. I was working for the CBS affiliate at the time in Miami. It was a team full of veterans; Shaquille O'Neal, Alonzo Mourning, Gary Payton, and Pat Riley was the head coach. I had been doing live shots overnight for days leading up to game six of the finals. After they won, everyone went berserk, and all eyes were on the local channels to see who would have the best coverage. I got the exclusive at the after-party in Dallas thrown by Pat Riley and Heat owners Micky and Madeleine Arison. Everyone was dancing and drinking and celebrating until about 4 a.m. I was the only one who shot it. We aired it for weeks and weeks! It was my biggest "get," and I was so proud to be able to give Heat fans a view into that amazing time.
Jill Martin is now working on a new show produced by DiGa production, a company started by the people behind hit shows such as Jersey Shore and Teen Mom. Loved your peek of Jill Martin's life? Check out more dream job stories in my In Her Shoes series!