Larry King on Reddit
Answered: 10 Questions You Always Wanted to Ask Larry King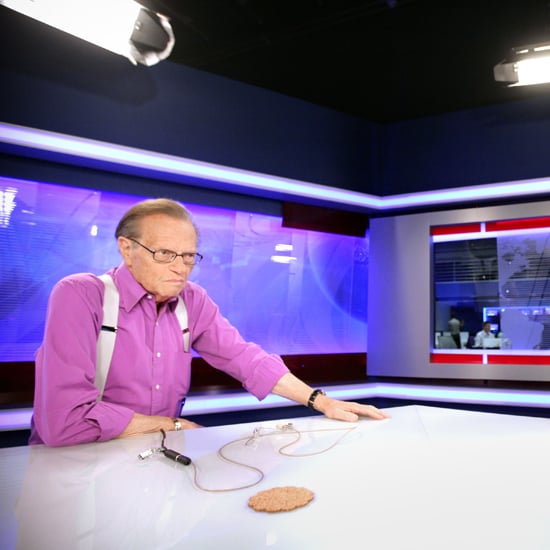 Today, Reddit users had the opportunity to ask Larry King some burning questions on the site's Q&A subsection — IAmA. Since leaving CNN, the 78-year-old cofounded Ora TV, a production company, with billionaire Carlos Slim. Larry King Now, a new web series produced by his firm, recently debuted on Hulu.
Here are some of the more interesting quotes from King:
The best piece of advice given to him: "Again, always be yourself. Every famous person I met had this advice. Never be afraid to be yourself, and never be afraid to take risks. People who don't take risks never go anywhere."
The miles of suspenders he owns: "You'd have to calculate, but I do have 150 suspenders. I have a lot more ties than suspenders though."
A time when he was scared during an interview: "I was in prison on Rikers interviewing a mother and son convicted of killing someone.

Sante

Kimes and Kenny Kimes. The way the son looked at me, had I not been surrounded by guards, I think he would have [killed] me."
Going back to a time in his life: "It would be the day I started smoking, and I would have not started to smoke. I paid a heavy price for my tobacco enjoyment."
What it's like to interview Malcolm X: "I really found him fascinating, bright. He taught me a lot about myself. I was always very liberal in the civil rights area, yet he made me think even deeper. He said to me 'You wonder what it's like to be young and never see yourself on TV. You're not in commercials, there's no black Santa Clause on the street. You're invisible.' That really struck me."
Read on for more.
Why he started wearing suspenders: "After my heart surgery I lost quite a bit of weight and my ex wife Sharon asked me 'why not try suspenders, it might be a good look.' I tried them, a few people called in to say they like them, and the rest is history."
An interviewee who was the opposite of what he expected: "The Watergate burglar, G. Gordon Liddy. I was prepared to totally dislike him, but he was so whacko, and so engaging, that I wound up enjoying him. His utter honesty, his bizarre philosophy, brought a sense of joy to the airwaves. I like him and have kept in touch."
All-time favorite interview: "It's impossible to say. I've done over 50,000 interviews. I guess I would say Frank Sinatra only because he didn't do interviews, and he was hard to get, but he did it because he liked me. It was a very personal and wonderful interview because I am such a fan of his."
Secret to marriage: "The best secret to a good marriage is as soon as you open your eyes in the morning, just say 'I'm sorry.' That'll cover yesterday, and today."
His dog, Biscuit: "I have a dog named Biscuit. He's a King Charles Cavalier. He's great with kids. Very docile and extremely loving. However, he has one large fault. If he's ever lost he would be very docile and extremely loving with whoever found him. Loyalty to me is not a part of his personality. Why, just the other day, he nearly took off with the good people on a tour bus that passed in front of my house."
What would you ask King given the opportunity?