Learning Languages Online
Professional Development: Learning a Language Via Webcam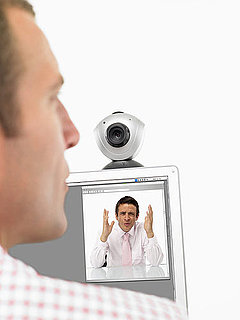 When reader SamBourdain said he wanted to pick up Spanish as his professional development goal, I thought it was a great idea — a second language can strengthen your global understanding and increase job opportunities. Not to mention, you'll also have a lower risk of developing dementia. I decided to take an online language lesson, and of course, I tried to keep it low-cost, so I picked one that offered a free trial lesson. I also wanted to take the lesson late at night, and it seemed to be one of the few sites that was able to accommodate my schedule. That's because the teacher was halfway around the world, in China.
To find out how my cross-continent web lesson went, read on.
I felt sort of weird webcamming with a stranger, so when my teacher asked to see me on Skype, I politely refused. I could see her on my screen, which I thought was enough. She asked me what I wanted to focus on, and I said I just wanted to brush up on my Mandarin (something that I had learned when I was young, but did not use much). We decided to start by having a basic conversation then seeing where it took us. It was pretty cool, because you can request your teacher to type up the Chinese characters you used during your conversation.
Overall, it went pretty well, and I seriously am considering signing up for the package. Online language lessons are great because you don't have to spend time traveling, and they can be cheaper than in-person lessons. All you need to do is some comparison shopping and go for the packaged deals. If you like, you can even check out free lessons on YouTube and Apple's iTunes. I think the biggest benefit about these web lessons is that you can actually learn from a native living in a faraway country without even stepping foot on a plane!

Like my stories so far? Why not join me on my journey of professional development! To keep it fun and mix things up for you readers, I'm going to attempt to do a different activity every week.