Lent Wedding Bracelet to a Friend and She Lost It!
Ask a Savvy Bride: Friend Lost My Wedding Bracelet!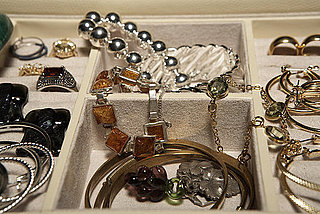 Wedding etiquette can be tricky. If you have a dilemma like the one below, be sure to ask our Savvy Bride for help in the Ask Savvy group.
Dear Savvy Bride,
A good friend of mine is getting married in less than a month and I offered to lend her the bracelet I wore on my wedding day as her "something borrowed". I lent it to a different friend months ago for her wedding and hadn't gotten it back. When I asked her for it this week, she informed me that she lost it. I'm sure it goes without saying that I'm devastated. The bracelet itself wasn't all that expensive, it's the sentimental value I'm most upset about. She obviously feels terrible and has offered to replace it, but I don't know what to say. How am I supposed to handle my disappointment and the situation?
Brokenhearted Heidi
To see the Savvy Bride's advice, read more.
Ugg, I'm so sorry to hear this! The worst part about this situation is that it was an accident, and while you have every right to be upset, there's unfortunately nothing you can do. What's done is done. I'm glad to hear that she's offered to buy you a new one — if it's still available, absolutely take her up on the offer — but if it's no longer available, shop around for something similar that you love almost as much. Another option would be to take a picture of the bracelet to a jeweler and see if it can be replicated. She lost something sentimental and should work with you to replace it with something equally thoughtful, even if it ends up being a lesser piece. It's the thought that counts here.
I can only imagine how disappointed you must feel, and my heart really goes out to you. Hopefully you two can move past this uncomfortable situation. My advice would be to think twice about lending things with serious sentimental value in the future. No one will respect your things like you do — even the best of friends.
Ask anything budget-, etiquette-, or planning-related — well, almost anything — by posting your questions in the Ask Savvy group, and I'll find the right expert to help you out. If you are planning a wedding, already happily wed, or still looking for Mr. Right, start sharing your big day with our community. Don't forget to check the wedding content box on your post.