Lessons From The Voice
6 Career Lessons From The Voice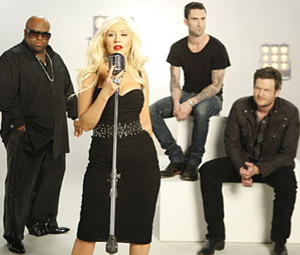 The Voice is now my new favorite show, not only because it's a refreshing change from American Idol, but there are plenty of career lessons to learn from the talented contestants. It's such a positive show with many feel-good messages that can translate towards anyone's career. Find out what you can learn from the show below:
Go with the leaders in your field. If you have employers knocking on your door and the liberty to choose who you want to go with, pick one that's in the field you want to get into. Singers with a country vibe like Patrick Thomas and Elenowen went for the country coach Blake Shelton, because they feel that he can help them with his industry connections and help shape their style.
You need a cheerleader mentor. Some contestants, such as Jeff Jenkins, chose a coach who isn't in their genre, but who seemed to really believe in them. Although it made more sense for Jeff to go with Blake, he went with Adam Levine because he says that Adam "really acted like he wanted to work with me and that he can make it happen." You need someone behind you who will cheer you on and who really believes in you, because having that support is so vital.
Don't ever give up. Frenchie Davis, a former American Idol participant who auditioned eight years ago, made a reappearance on The Voice last night. "I had thought that this ship had sailed, I had given up on pursuing a recording career . . . don't ever give up on your dreams," Frenchie tells host Carson Daly after her performance.
For more lessons to learn, read on!
You're never too old. The thing that I love about The Voice is there really is no age requirement for the contestants. We see people like 41-year-old Beverly McClellan who made it through to Christina Aguilera's team. If you have a dream career, don't let your age deter you from fulfilling it, and it's never too late for a career switch.
It's who you are inside that counts. The most beautiful part of the show is how the judges aren't allowed to see the contestants and they pick them based on their voice alone. The message to take away from that is it's who you are inside that counts, and not external appearance. Although superficial qualities may give you an edge, being true to yourself will take you to the top. Employers and colleagues gravitate towards genuineness and not your looks.
Your hardships will make you stronger. When you face a bump in the road, take it and make the best of it. Many of the singers of the show have gone through tough times, but they absorb it and use music as a positive outlet. Jeff's mom passed away from cancer 10 months ago and it's what motivates him. He says that being on the show isn't "about fame, it's not about fortune, it's just really about being a voice for people like my mom. I want to be a voice for those fighters like she was."
Photo courtesy of NBC