Lighted Mason Jar
Dollar Store Chic: Whimsical Lighted Mason Jars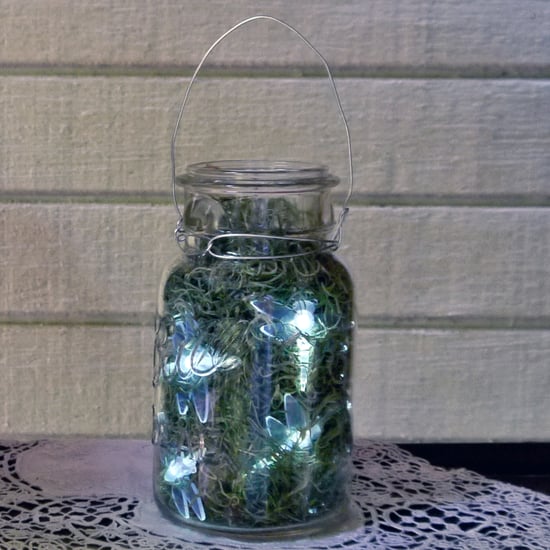 We love finding ways to upcycle mason jars, and this dollar store craft is seriously sweet for outdoor parties or weddings. This cute creation can serve as wedding favors, be hung from trees, or placed along a walkway to beautifully light the way. Any type of glass jar, or even a vase from the dollar store, can be used, and using LED lights ensures things won't get too hot while nestled in the craft moss. Here are a few tips for putting them together:
Select a large mason jar, such as a quart large-mouth jar, so the strand of lights doesn't bunch up in one spot. We found LED lights at the dollar store and, along with the traditional strands, lucked out with these dragonfly lights. Start by unraveling the length and placing a few of the lights from the end of the strand in the mason jar.
Now reach for the craft moss, which we also picked up at the dollar store, and tear off a chunk. Press the moss into the jar, nestling it around the lights. Use a chopstick or pencil to move the moss, keeping the lights against the glass and covering the line of the light strand.
Continue feeding the lights into the jar and adding more moss until you reach the top of the jar. Press into the center to create a space for the battery pack so you have easy access to the on-off switch. Cover with a bit more moss and your whimsical lighted jar is finished.
Use craft wire to create a cute handle for hanging or adorn with a length of ribbon.