Lonely Planet iPad Travel Guides
Are Interactive Travel Books the Guide to the Future?
When planning a trip, I both consult travel books and do a ton of web research first. However, even the best-laid plans . . . get waylaid on vacation! Whether it's finding yourself starved with no clue where food is, or getting lost in a land where you don't speak the language, I can definitely recall times when I've (figuratively) smacked myself in the head for not remembering to check something.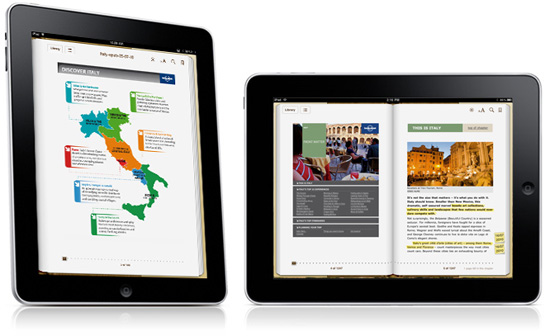 I do have the Lonely Planet Rome City Guide downloaded to my iPhone and appreciate its links with searchable map and public transport suggestions. With my handy smartphone, errr, handy, the information is now technically at my fingertips, but GeekSugar has me scared to bring that device overseas, forget about turning it on.
That's no longer the case with Lonely Planet's new iPad iBooks. Each guide boasts 3,000 hyperlinks, meaning you can get more info on the go! Since the book is stored on the device after downloading, there's no need to search for a WiFi signal, either. So far the Discover Guides have been released for five European countries — Italy, Spain, France, England, and Ireland — for $15 a pop. I wouldn't be surprised if more countries follow suit as these interactive travel books blend the new and old media worlds. What's your take?