Lottery Winner Stories
Brilliant or Baffling: Giving Away Your Lottery Winnings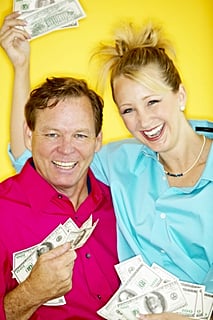 Imagine winning $11.3 million in the lottery. Then picture giving it all away to charity. A retired Canadian couple did just that after they won the lottery in July, and their donation spree is almost up, because most of their winnings has been given away. "What you've never had, you never miss," Violet Large, 78, said.
The money was actually more of a burden than a boon, because the couple fretted over being scammed by "crooked people." Violet told reporters that giving the money away to family and nonprofits like the Red Cross and the Salvation Army made the couple "feel good" and that there is "so much good being done with that money." The generous duo are, however, keeping two percent of the money for their emergency fund.
The ending to their lucky story seems a lot happier than other lottery winners. British lottery winner Keith Gough, 58, drank himself to death because he was bored after he quit his job as a baker. Gough had said in a previous interview that "without routine in my life I started to spend, spend, spend. In the end I was just bored."
What do you think of Violet and her husband's decision to give away all their winnings? Do you think it's a great idea, or is it mind boggling?