Machine Wash Your Dry-Clean Only Clothes
Savvy Tip: Don't Dry-Clean All the Time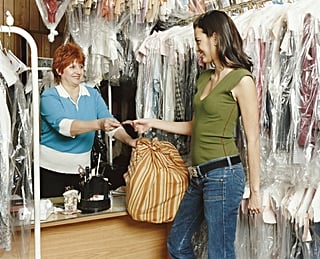 Most of the time, I ignore those "dry-clean only" tags and wash my stuff at home. Apparently 65 percent of clothes can be machine washed, according to financial adviser Randy Hardy. So far so good, none of my clothes have been damaged and I've managed to save some money here and there. Just to be on the safe side, I still dry-clean the clothes that I don't want to risk damaging. Here are some handy tips to follow:
Wash in cold water — You definitely don't want to shrink your clothes so opt for the cold water cycle to prevent that from happening!
Turn them inside out — With clothes that have more decorative embellishments on them, such as ones with beading or studs, I turn them inside out for less damage during the tumbles in the washer and dryer.
For more tips, read after the jump.
Be gentle — Choose to hand wash, go with a mild detergent, and use a gentle cycle if you want to use the machines. When you're using a washer, use a delicate bag for your delicates so it's not too rough on them.
Hang them to dry — Hanging your clothes out to dry will prevent the heat from the dryer from shrinking your clothes, and they'll be going through less tumbling.