Making Flowers From the Pharmacy Look Nice
Transform Flowers From the Pharmacy Into a Stunning Arrangement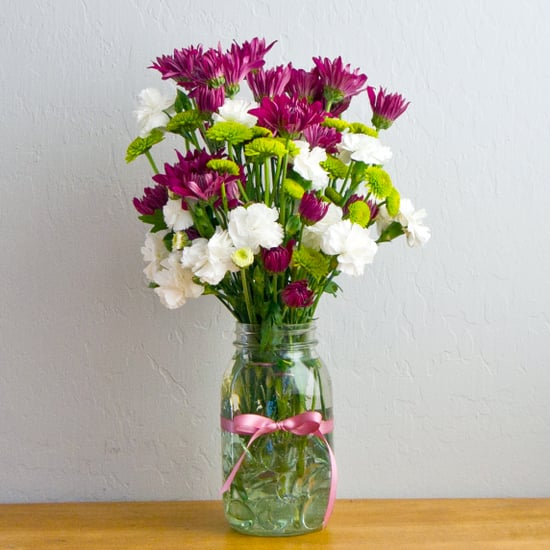 If you find yourself at the pharmacy picking up a last-minute card for a special holiday (like Valentine's Day!), then grab one of those plastic-wrapped prearranged flower bouquets for creating a stunning arrangement that looks like it came straight from a specialty flower shop. And with only a few dollars — and a little help from dollar-store finds — you've got a floral centerpiece that will leave a lasting impression on a special someone.
Keep reading for the basic steps.
What You'll Need:
Basic flower arrangement
Glass container
Glass gems
Scissors
Ribbon
Directions:
Select a flower arrangement with colors that you like. Most pharmacies or convenience stores carry basic bouquets, which work great for this arrangement without looking cheap.
Select a clear vase for creating the arrangement, or repurpose a glass jar for a cute look. Fill the base with glass gems, which you can find at the dollar store. Along with looking really pretty, they'll help hold the flowers in place. Select the largest blooms, and cut the bottoms of the stems at an angle before positioning in the vase.
Now fill with remaining flowers, cutting and then placing in the vase. Arrange contrasting colors of blooms next to each other to make the bouquet pop.
Continue cutting stems at different lengths and adding flowers.
Once the arrangement is finished, top with water. For an extra pop of cuteness, tie a sweet ribbon around the vase and add a personal note.