McDonald's Charges Money For Happy Meal Toys
McDonald's Sneaks Around the Happy Meal Ban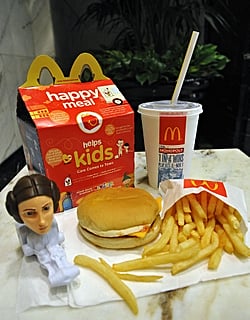 It seems that fast-food giants are finding a way to scoot around San Francisco's new ordinance that bans restaurants from serving free toys with meals over 600 calories. McDonald's has decided to charge a dime to customers who would like the toy with their Happy Meals, reports the San Francisco Chronicle.
The proceeds earned from the Happy Meals will go towards building a Ronald McDonald House, which will house families with sick children temporarily at the UCSF hospital. This is a clever move as well, because knowing that the money is going to charity might make people more inclined to pay for the toy.
I admit, the lawmakers had good intentions when they passed the ordinance — they wanted to combat child obesity, a crippling problem that has tripled in just 30 years. Supervisor Eric Mar, the chief sponsor of the law, has said that he wanted this to incentivize restaurant chains to provide healthier options to kids.
Many of you had something to say about the Happy Meal ban. A couple of readers agreed with the comment that the "reason why kids are obese is due to bad parenting . . . not the availability of Happy Meals." Others cheered this law, saying, "It's commendable that they're actually taking on such a huge company in the name of good health."
It seems like corporations will always find the loopholes in laws and find a way to sneak around ones that cut into their profits. What do you think of this new development?