Michelle Obama Quotes on Love and Anniversary With Barack
Michelle Obama: I Grow "Prouder and More in Love" With Barack Every Day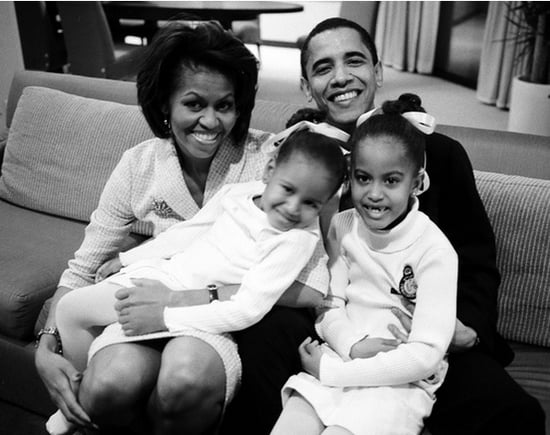 We are thrilled to share the next answer in our series with First Lady Michelle Obama. Early voting has begun, so don't forget to register at GottaVote.com! This week is a big one for the Obama family — not only is it the first presidential debate, but it's also Barack and Michelle's wedding anniversary. For that reason, we're focusing on her husband and daughters this week. First up, an intro from Michelle. Then, hear her thoughts on her own daughters' future voting:
"This is a big week for Barack and me, and not just because of all that's happening on the campaign. Early voting has already begun in Iowa and Ohio, and Barack takes the stage for the first presidential debate tomorrow night in Denver. But we'll be marking an even bigger milestone together: our 20th wedding anniversary. On Oct. 3, 1992, Barack and I were married in Chicago — and every day since, I've grown prouder and more in love with him.
So I want to thank everyone who sent along lovely anniversary wishes this week, and I'm looking forward to answering some more of your questions here at PopSugar."
PopSugar reader lshepoped asked, "If your children were old enough to vote this November, what criteria would you suggest they use to evaluate the presidential candidates?"
To read Michelle's answer just read more.
"Well I would hope this election would be an easy decision for them! But if I were to give them some more objective advice, I would tell them to vote for the person who they believe will help create the kind of world they would want for their own daughters someday.
That's why I'm working so hard to reelect Barack. It's not just because he's my husband — it's because of the world I want to leave behind for our daughters. Like so many parents around the country, I want them to grow up in a world where there are good economic opportunities for those who work hard, where women are paid fairly in the workplace, and where insurance companies can't discriminate against women and charge higher rates for their care. I want them to inherit a country with the best schools in the world, safe streets, a clean environment — a country that says no matter where you come from, what you look like, or who you love, you can make it if you try.
That's how I've always made my choice for president, even when Barack wasn't on the ballot. So when the time comes for our girls to cast their own votes, I hope that's what they'll be thinking about, too."
We are still taking questions! There are three ways to participate:
1. You can leave your question in the comments section here on PopSugar.com
2. You can tweet using the hashtag #POPSUGAR2012
3. You can leave your question in the tab on our PopSugar Facebook page
We're so excited to hear what's on your mind and to speak to First Lady Michelle Obama together.