Modern and Unique Wedding Ceremonies
3 Wedding Traditions For the Modern, Savvy Couple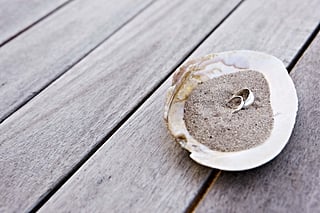 It's time to let go of the time-old wedding traditions and do what feels the best for you. Dana LaRue from the BrokeAss Bride advises not to stick to wedding traditions that are on checklists or because people expect you to. "Your wedding is your choice to embrace common tradition or throw them out the window and create your own new traditions . . . or, do a little of both! As long as you're doing what feels right for you, you're doing it right!" Dana says.
Here are some wallet-friendly traditions Dana suggested the modern savvy couple might enjoy:
Ring Warming Ceremony: "This is a hot new tradition that I loved doing at our wedding. Your rings are passed around and guests are encouraged to send loving energy and blessings into them as they go around. Its a lovely way to get your guests involved and let their love infuse your rings. Be sure to tie rings down to a dish or put them safely in an organza bag so they stay put as they cycle around!"
Emergency Box Ceremony: "This is extremely romantic and practical. A bottle of wine, one wine glass, and letters from each partner to one another are sealed into a box with nails. If ever the marriage is in serious crisis the couple can open the box, read each other's letters, and share the wine together to remind them of what led them to their commitment and provide some thoughtful perspective on whatever the problem might be. You can opt to include letters from your bridal party, too. Hopefully you'll never need to open it, but it confronts the fact that marriages aren't always such smooth sailing, but creating this emergency kit can help you stay prepared if you ever do hit major waves."
For one more unique and amazing tradition, read on.
Sand or Salt Ceremony: "They're both variations on the unity candle, where two flames are combined to light one candle. Sand or salt from two separate vessels are combined to symbolize the joining of two lives in marriage. With sand, many couples prefer to use two separate colors and layer them in a glass vase or bottle, which creates a unique pattern and can be displayed in their home somewhere special for years to come. Salt is a great one because the couple can then use it when cooking special dishes throughout their marriage, and salt is known for adding flavor to life and for bringing out the sweetness in things. It's also known for its energy-clearing properties, so it can symbolize a fresh start or new beginning that way. Some couples prefer to reserve a small amount of whatever they're combining in their individual vessel, to symbolize that although they are joining their lives, they remain unique individuals. You can also do this same type of ceremony, with similar meanings and messages, using whatever speaks to you, be it wine, a different spice, the planting of two seedlings together . . . the options are endless, its totally affordable and fun to personalize!"