MuggleNet Creator Emerson Spartz Interview
Emerson Spartz, CEO of the Biggest Harry Potter Fan Site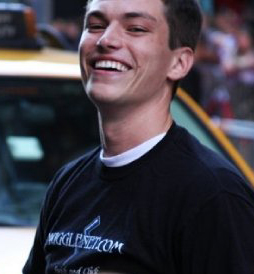 While other preteens were exchanging Pokemon cards, Emerson Spartz started MuggleNet.com at the mere age of 12 in 1999. He wasn't just a kid fooling around on the Internet — the website grew to be the go-to Harry Potter fansite, which at its peak drew in nine million monthly visitors. Now he's 23, and already a veteran in the field of new media with seven websites under his belt . . . and counting. Read all about his magical journey in this latest installment of my dream job series: In His or Her Shoes.
SavvySugar: How did this all start?
Emerson Spartz: My story starts back in 1999 about one month after I started homeschooling. I suddenly found myself with more free time than I knew what to do with. So I found one of those free webpage makers, and I started playing around with it. Then I decided to make a Harry Potter website because I just read the third book, and I was totally obsessed. So in the beginning, it was really just messing around with the different features of the webpage editor, but I very quickly decided that I wanted to build the biggest and best Harry Potter website on the Internet and I started putting in a lot of hours producing it. So that's where it started and I built MuggleNet over the years — the number one most visited Harry Potter website. At its peak it was doing about nine million unique monthly visitors, and it was one of the top one thousand websites on the Internet.
To read all about how Emerson met J.K. Rowling and what it's like to work with the love of his life, read on!
SS: What was it like meeting J.K. Rowling?
ES: Wow that was really a dream come true. I mean she just called me one day out of the blue at eight o'clock in the morning. I had never spoken with her in my life, and she invited me to come to Scotland to interview her, on the day of the release of her sixth book. She is just the most awesome, the most down to earth person that I can ever hope to meet. The interview was supposed to be for an hour, but it ended up going over two and a half hours. So basically we're total BFFs right now . . . I wish!
SS: Tell me more about your fiance Gaby Montero.
ES: Gaby, my fiance, had kept a secret from me from the first eight months of our relationship that she had also created a website when she was 12. And it was a very popular website called DailyCute.net, which she would put up pictures like cute animals and fluffy things. She kept that secret from me because she would sheepishly remark that it was so much smaller than MuggleNet. But she had 75k pageviews a month, which is definitely not a shabby website by anyone's standards. When I found out that she had this website that she had created and had been maintaining for a decade, it was like a dream come true for me because clearly it was like a match made in heaven. So after graduation we launched this website givesmehope.com together, and we launched more websites and I've been able to do this with my life partner alongside me which has been too good to be true.
SS: What are some of the perks of your job?
ES: I would be remiss if I didn't speak briefly about some of the cool perks. Being a famous website creator has presented me with a lot of great opportunities. Just to give you a quick snapshot, I'm able to do a lot of things that can be a dream come true for many fans, like flying out to the sets of movies in England, attending the movie premiers and the afterparties where all the stars are hanging out. Warner Brothers spent a small fortune in producing almost like a mini Hogwarts [at the parties], their efforts are so intense that they actually have paintings all over that afterparty at the premiere and the paintings are actually moving because they are LCD TVs, and they're everywhere. So you have the awkward warlock in the painting watching you while you take a leak next to the river. It's a sensory overload. So those are always fun.
SS: What else do you love about your job?
ES: The company's first four employees were my fiance, my brother, who I love to death, you know I was homeschooled [so we spent a lot of time together]. His name is Dylan and he's younger than me, and he does all the graphics and multimedia for the website. So I started with Dylan, Gaby, and Henry Vasquez, who is one of my best friends. I'm working with my best friend, my brother, and fiance, so it's a lot of fun. The line between work and play is blurred, and I absolutely love what I do. It's really hard for me to take a break because I don't know whether I'm working or playing.
SS: What was a memorable time for you?
ES: We published two books. The first one is MuggleNet.com: What will happen in Harry Potter 7, which was a huge success — the book ended up selling over 335,000 copies and spent six months on the New York Times bestseller list. And we went on a 35 city tour, two tours actually, in the US and Canada, which was so much fun. Because in every city, a couple hundred fans would show up, and we spent a lot of time just defending some of our most controversial theories. It was awesome. That was the most fun I had in my entire life. Unquestionably. The publisher gave us a $100 a day for spending money on food. We didn't use all the money on food, so we had all this extra money to go and have fun with. A lot of our friends would come on tour with us for part of the Summer. And it was too much fun. We felt like rock stars.