New Book Argues That Freedom Makes Workers More Productive
I'm Asking: How Are You Rewarded at Work?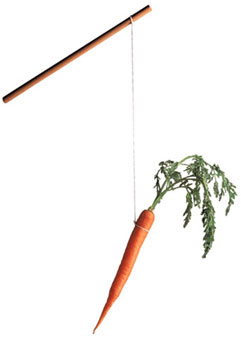 We're all motivated by different factors when it comes to our jobs — gunning for a promotion, achieving a "personal best," or contributing to a team. But, according to one author's research, one thing that doesn't effectively motivate us is the traditional carrot-and-stick model.
In his new book Drive: The Surprising Truth About What Motivates Us, author Daniel Pink claims that the more freedom employees have, the happier, more creative, and more productive they'll be. People respond best to feedback, he says, not to financial rewards and punishments — so if we're told we've done something well, we're motivated to keep doing it, and do it better.
I agree with Pink's approach — for me, bonuses couldn't make up for being stifled and micromanaged. Having the freedom to do a job the way I want to do it, and hearing from my boss that she appreciates my work, is more valuable to me than monetary rewards.
What motivates you to do your best work, and how does your current job reward you?