Norway's Luxurious Prisons
Brilliant or Baffling: Norway's Luxurious Prisons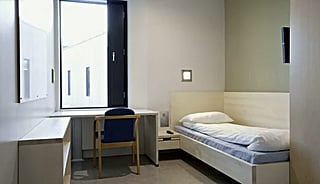 Norway's prisons seem like holiday resorts, and it's clear that a lot of money is being spent on them.
In the second largest prison in Norway, the Halden Prison, inmates are treated to a flat-screen TV in their individual cells, and up to 10 to 12 cells share a kitchen and a living room. There are also rock climbing walls, a recording studio, and an official high school within Halden. About $1 million was spent on artwork and light installations to make it a welcoming environment for the prisoners.
The idea behind these hefty expenditures is that prisoners should be treated as people, and the more humanely you treat them, the less likely they are to commit similar crimes again. Perhaps it's working — Norway's recidivism rate is 20 percent compared to America's rate of 60 percent. What do you think: is this a brilliant or baffling idea?