Obama Says Tax Hikes For the Wealthy Are Not "Class Warfare"
Tax Hikes For the Rich Is Not "Class Warfare," Says Obama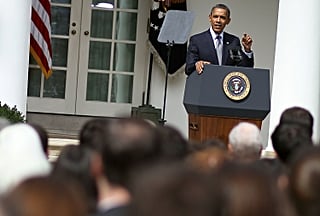 The White House is proposing a new tax rate for the wealthy — those earning more than $1 million will have to pay, at the very least, the same percentage of taxes as middle-income Americans are paying. It's called the Buffett Rule, and it's part of the debt reduction plan President Obama proposed today, which aims to reduce the federal deficit by $3 trillion in the next 10 years.
However, there are naysayers who are calling this move "class warfare." In his defense, Obama said, "This is not class warfare, it's math . . . I reject the idea that asking a hedge fund manager to pay the same tax rate as a plumber or teacher is class warfare." The president goes on to say that the country can no longer "afford special lower rates for the wealthy" and that the millionaires need to be paying their fair share. "Warren Buffett's secretary shouldn't pay a higher tax rate than Warren Buffett," Obama said.
Weigh in with your thoughts below: is this class warfare or a fair move?