Office Lunch Break Habits
I'm Asking: Do You Ever Miss Out on Your Lunch Break?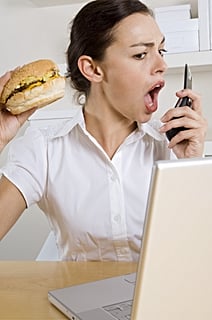 If your answer to this is yes, you're not alone. In a recent Monster.com survey, 60 percent of people said they don't always take their full lunch break while another seven percent don't take lunch at all. A director from Monster said that taking lunch is crucial to productivity and is important for one's health and mental well-being. It's all about time management and prioritizing your lunchtime ritual.
I admit, I'm not the best at taking my full lunch break, but I've started to try to set aside a little time to sit down somewhere other than my desk to eat my afternoon meal. It's like a breath of fresh air and a really good mental break. How about you — do you miss out on your lunch break?