The Office Sex Ed and Etiquette
The Office: TMI and Office Etiquette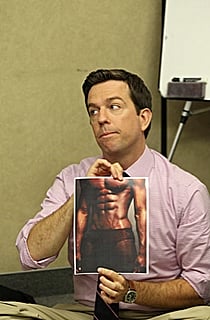 Hilarity ensues on last night's episode of The Office when Michael discovers that he may have herpes. This leads to an intense sex-ed forum led by Andy, another failed master plan to win back Erin, which was accompanied by pictures (yup, you heard me right. There are pictures). This got me thinking about how appropriate it is to have these kind of discussions at the office. Here is an etiquette guide to keeping things professional at work.
Ditch the sex talk: Trust me, your colleagues are not interested in hearing about your STDs and who you slept with. It's best to stay away from these type of topics because you might make some people uncomfortable and it can be a form of sexual harassment. If you feel that you have the type of relationship with your colleagues that allows for discussion of sex matters, save it for after office hours.
Don't swear like a sailor: Even if swearing is your second language, it can be offensive to other people. Avoid using foul language for a more pleasant work environment.
BlackBerry withdrawal: You may claim that your BlackBerry is surgically attached to your hand, but don't check it during meetings. You should pay attention to the speakers, because you want them to show the same respect when you're presenting. Talking in front of a group is not easy for some, so try to make it a good experience. Read these tips for public speaking if you're having trouble.
For more Emily Post-type office tips, read on.
Mind your Ps and Qs: Little things like thanking people and saying "please" can make a whole world of difference. Greeting each other in the mornings is just basic courtesy.
No smelly lunches: Stinky food is not pleasant, and having to smell your colleague's food all the time can be unbearable. You can deal with it by telling HR about it or being honest about it. Here's more information on how to properly handle this situation.
Turn your phone on silent: Turn off that "I'm a Slave 4 U" ring tone. Hearing phones go off can be very distracting and a source of irritation for people trying to concentrate on their work. Don't make the situation worse by picking up the phone and going into a loud discussion about your plans for the weekend. Save the casual conversations for later.

Photo courtesy of NBC