Office Volunteer Ideas
5 Fun Office Volunteer Initiatives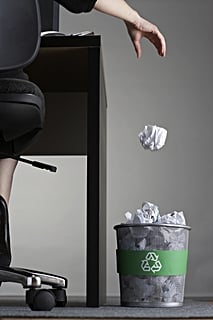 November is the month of giving, and I previously gave you seven tips to starting your own volunteer initiative at work. Now that you have a better idea of how to plan your approach, take a look at some of my suggestions you can implement at your office. Remember, you need the support of your office, which means getting the OK from HR or an executive, before you start your "thanks giving" plans.
Going Green: There are several things your office can do to help the environment. Your company can focus on reducing waste with simple things like printing on both sides of the paper and saving your data on computers instead of paper. You can suggest installing recycling bins at your workplace and encourage the use of nondisposable products among your co-workers.
Donating: Pick a nonprofit that you think suits your company's vision, and pitch it to HR. There are creative ways of donating so explore all the alternatives. For example, you can create a "team" for your company on Kiva, a microfinancing nonprofit, and you'll be able to keep track of which employees become members and donations the group has made online. Another idea is to even ask people at the office to donate items such as books, so you can give them to organizations such as the Salvation Army.
For more suggestions on volunteer initiatives you can start at work, read on!
Start Walking: Participating in a charity walk or run is a good way to get involved, get in shape, and bond with each other. It's a lot easier to participate in a major event that occurs in your city than starting one from scratch. Some examples of famous charity walks are the Susan G. Komen 3-Day for the Cure or the AIDS Walk.
Petitioning: Never doubt the power of the people — petitions even have the ability to influence laws in Britain, according to the BBC. Remember to pick a cause that doesn't clash with your firm's ideals. There's nothing easier than signing a petition, so this is a great activity to start with. Just make sure that the topic is not controversial, because you're in a professional environment.

Mentoring: Teaching kids the skills you learned from your profession is the perfect corporate social responsibility initiative, because you'll get to hone both your work and leadership skills. For example, in my field, it would be a good idea to devote our time to 826 Valencia, a writing center for kids and teens, and help out with writing workshops.