PackLate Has Last Minute Vacation Rentals
Procrastinators, Don't Delay in Visiting This New Travel Website!
"Last-minute" trips are so often cheaper that the descriptor has become synonymous with savings, before cost is even mentioned. Likewise, renting a property versus a hotel stay can net you even more cash back. Add both bargain types together and meet the new site PackLate.com.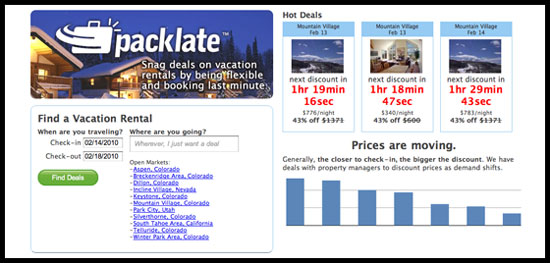 Visitors can save at least 10 percent on travel plans made between two and three weeks before departure, and then the price plummets as the trip nears. The site advises "Be careful not to wait too long and let someone steal your deal!" and certain rates that end soon have a ticking clock, eBay-style. I can see advantages of this process (over Craigslist, for example) since it cuts out the middleman and seems more secure, booking-wise.
Since the site just launched on Feb. 4, it's not surprising that there are limited locations offered at this point. I know I'll be checking back in the coming months, will you?