Paper Bag Baskets
Super Cute! Upcycled Paper Bag Baskets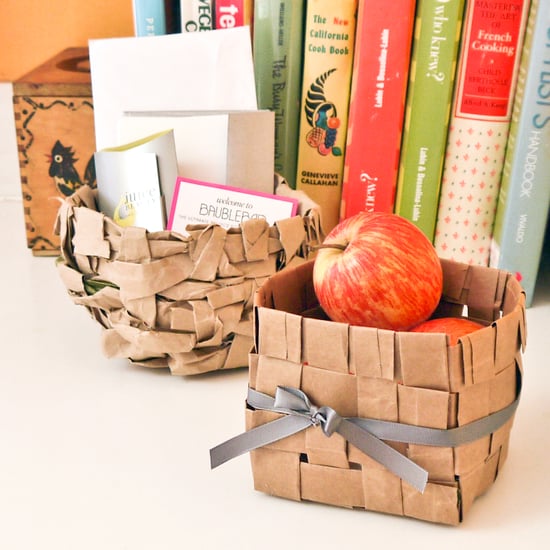 Instead of stashing that folded paper bag the back of your closet, upcycle it into a really cute basket that's perfect for holding fresh fruits or your kitchen-counter clutter. No need to be crafty — these eco-friendly repurposed containers are easy to weave together and can be made in any size. Make several for chic kitchen storage, fill with something sweet as a gift, and gather your girlfriends (and all their paper bags!) for an afternoon of basket-weaving fun.
Read on for the directions.
What You'll Need:
Paper bag
Ruler
Pencil
Scissors
Hot glue gun
Ribbon or string (optional)
Directions:
To create a basic basket around four inches square, cut away the bottom of the paper bag and remove the handles. Lay the bag flat on your work surface horizontally and cut the sides.
Use a ruler to make a mark after every two inches along the vertical sides of the bag and then connect the lines to mark the cuts for making the basket.
Cut out the strips, creating 14 18-inch lengths for basket making. Place a length print-side up and fold into itself halfway, pressing with a ruler. Fold in on itself again, creating a folded paper strip around three-fourth inch thick. Or mix things up and roll the paper into long strips to create a rounded basket.
Create the base of the basket by positioning four lengths horizontally on your work surface and then centering four strips over the tops to frame out the basket. Create a larger basket by adding more strips.
Place a dot of hot glue at the bottom right corner of where the papers overlap and then begin weaving the strip over and under the horizontal strips. Continue weaving the strips and then secure the other three outside corners with hot glue.
To make the sides of the basket, fold the strips toward the center of the basket and then secure a strip to one outside corner with hot glue, lining up the edges to keep things nice and even. Now fold the paper and begin weaving the strip, over and under, around the outside edge to reach the other side. Trim and secure with another dot of hot glue.
Glue a new strip of paper above the first but on the inside of the basket, and weave opposite of the first strip. Continue weaving until the basket reaches your desired height.
Finish by trimming the ends and folding either over the inside or outside of the basket, securing with hot glue. Adorn with a length of ribbon or string and you're ready to store your stuff.