Personal Finance Tips
10 Secrets to a Happy Financial Life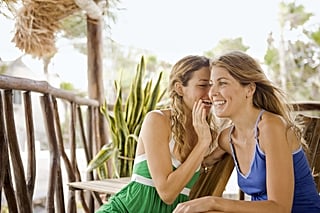 Surveys have shown that money is one of the main causes of stress. The recession increased money woes for many of us — playing up our fears of joblessness or putting more pressure on us to make ends meet on a smaller budget. Although those in their twenties are known to struggle with uncertainty, personal finance is something that the younger generation can immediately start to take control of. Kimberly Palmer, author of Generation Earn and personal finance expert for U.S. News and World Report, shares several secrets to how young professionals can take a positive approach to becoming financially secure. Here are 10 tips from her new book:
Don't skimp on what makes you happy: Whether it's a new pair of fall boots or daily java, the quickest way to destroy your budget is to make it impossible to follow. That's why you should cut the costs that don't matter to you, which might mean cooking more meals at home or living in a smaller apartment, while splurging (guilt-free) on the ones that do.
That includes investing in your career: Since your profession is what has the potential to make you money, that's the last place you want to cut costs. So whether it's time to revamp your office wardrobe, take a career advancement course, or work with a coach, make the investment now so you can see the pay-off later.
For more tips, read on.
Track your money: Starting now, write down everything you spend money on for the next two weeks. You might discover that you're letting small costs stress you out while ignoring the bigger bank account leaks.
Enforce the $100 cut-off: For bigger purchases, there's almost always wiggle room on the price. So before buying anything over $100, be sure to research your options first by hunting around online, checking comparison sites such as PriceGrabber.com, and even negotiating with sales clerks.
Get a second job: Consider taking on a freelance assignment or two. The average worker now has 10 different jobs before age 36, which means we need to think of ourselves as entrepreneurs, and always be on the lookout for new opportunities.
Plunge into that stock market: Yes, investing can be a scary thing. But it's also the best way to earn money over the long-term, so don't wait until you feel like you have "extra" money before learning how to invest in index funds and other low-cost options. If you have access to a retirement account, such as a 401(k), through your job, then start there.
Plan on funding your own retirement: The days of pensions and a fully-funded Social Security trust fund will soon be over. That means we have to fund much of our retirements on our own. There's only one way to do that – saving a lot, and starting as soon as possible. According to the Transamerica Center for Retirement, single women, on average, need to have saved $500,000 by the time they retire.
Take baby steps: The easiest way to get started is to begin by saving just two percent of your income. Then, slowly increase that to four percent and higher. Soon, you'll be funneling away 20 percent into your retirement account and headed toward blissed-out golden years.
Simplify: Are there ways you could simplify your life while also enjoying it more? Maybe you'd rather watch less television and bike to work instead of driving. Blogs on the pursuit of simplicity, such as smallnotebook.org, can provide inspiration.
Think like a celebrity: Ever notice how all the biggest names join up with good causes or even launch their own charities? Wyclef Jean, Michael Phelps, and Ashton Kutcher are just a few of the celebs who have donated their time and money to causes they believe in. While they have access to more resources than the rest of us, we can often make similar moves on a smaller scale. If you've noticed an unmet need in your community, think of what you could do to help. Perhaps getting together with friends to raise money would let you spend more time together while also giving back.
For more about Kimberly and her new book Generation Earn, you can visit her website at www.generationearn.com.