Plastic Bottle Hanging Planter
Turn a Plastic Bottle Into a Hanging Planter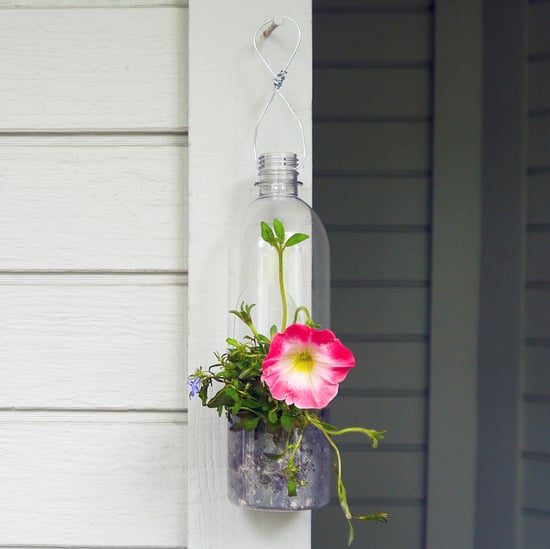 Recycle your plastic bottles in style with this easy DIY. Perfect for adorning small patios or apartment windows, these planters can be hung indoors or out and take minutes to make. And they also make delightful gifts during Spring and Summer. For basically the cost of the plants, you've got a cute planter that will add a touch of sweetness to any space.
Read on for the directions.
What You'll Need:
Plastic bottle
Scissors
Paper
Marker
Tape
Push pin
Floral wire
Wrench
Plants
Directions:
This is a great project for recycling plastic bottles from your favorite beverages. And you can use any kind of plants or flowers for this easy DIY. You can find floral wire at your local craft store for only a few dollars.
Remove the cap and label from the plastic bottle, and draw an arch with a base line on a sheet of paper to use as a template for creating the opening for the planter. Cut out and check the shape and size of the paper against the bottle and then tape in place at the center of the bottle. Use a push pin to create a hole at the base of one corner to make space for the scissors, then cut around the paper.
Now use the push pin to create holes on either side of the top of the bottle and feed a length of floral wire through, using a wrench to help. Loop the wire through and then twist together to secure the wire. Bend and twist the top of the wire to create a loop for hanging the planter. Use the wrench to help wrap and tighten the wire.
Select a few small plants to fill your hanging planter, gently tucking into the hole in the bottle. Your planter is reading for hanging!
If you're planning on hanging the planter outdoors, then use the push pin to press a few holes in the bottom of the bottle to allow for drainage.