Plus Model Magazine
In Her Shoes: Maddy Figueroa-Jones, Plus Model Magazine Editor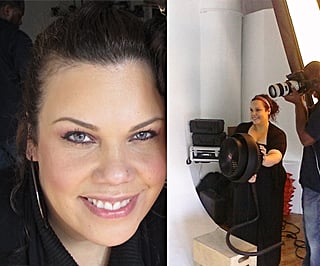 I can't imagine another job as fulfilling as making women feel good about themselves and their body image. Maddy Figueroa-Jones accomplishes that every time she publishes an issue of Plus Model, a plus size magazine she co-founded with another former model in the industry. Read on to hear how she's changing women's lives, one page at a time!
SavvySugar: How would you describe your job, and how did you fall into it?
Maddy Figueroa-Jones: I am a former plus size model turned editor. I'm the editor of Plus Magazine, a magazine that has been around for about five years. I have a business partner, also a former plus size model out in Seattle. The reason why we came up with this idea was because we did have a magazine called Mode, which fell under after 9/11. And at the time when we started the magazine, there were no plus size editorials that showed plus size models in their truest beauty, which was outside of commercial images — nobody was really interested in who these women were, what they did. They just weren't just plus size models. They were moms, they were students, activists; there are so many different women out there, so we decided to put a magazine together that really celebrated the models. And it turned into celebrating the fashion and the industry as a whole as the magazine developed.
SS: How did the plus size industry evolve?
MJ: Our first plus size model was Emme Aronson, she together with this other model Natalie, were the two real super plus size models, probably about ten years ago. They were on billboards in Times Square, they had their own TV shows, Emme had her own Barbie doll. This was when the plus size industry had first started, Mode magazine was out. You had designers designing clothes for plus size women for the very first time, outside of the regular brands. So these women kind of came on the scene to give plus size women a voice and an image in fashion that we never had before. And that's basically where it started.
To hear more about the industry, read on!
SS: What is it like today?
MJ: We are an industry that's still evolving, and there's still very much an inner struggle. A lot of times — believe it or not — brands, even plus size brands, don't want to be associated with fat. It's us big women who are going into the stores, and yet they don't want to really be associated with being a fat brand. So the models will be really small, and you won't see a lot of bodies in the images in the campaign, so we're still an industry that's still evolving, because the fashion industry as a whole still has not fully accepted us. I know people think, "Oh you guys are doing great, there are plus size models everywhere, and you have Crystal Renn," and I'm like Crystal Renn started out as a plus size model, but she's not a plus size model anymore. She's not doing it right now because her career has evolved into something else. That's great for her, but as an industry we definitely feel a little bit of a struggle in identifying and being happy with who we are.
SS: What are the misconceptions of your industry?
MJ: As an industry, the misconception is that we are all trying to advocate obesity. Yes, there are people that are morbidly obese, and they don't leave their bed, they don't get out of their house, and they don't take care of their bodies and there are people like that. We're not saying that they're not out there, but there's an entire generation of women and men who absolutely love their life. They're having sex, they're roller skating, they're going on trips, they're going swimming and going to the beach, and there's nothing that they're not doing — they're just like everybody else. It just so happens that they are bigger than some. And the reality is we are the majority, 62 percent of women are over a size 14, so we're actually the majority.
SS: Have you always been comfortable with your body image?
MJ: I have always been a plus size girl since I was a little kid. Our body image was good at home . . . In the beginning they were a little bit worried because I was so much taller and bigger than the kids and I liked to play a lot of sports and everything. It just felt like girls generally wanted to do cheerleading, but I wanted to play football because I was so big and strong. I liked to play with the boys, and I liked to challenge them and challenge myself, really. But as I got older, there was a time period when I was like, oh gosh, I want to be like these other little girls. They were so little and so cute, and there weren't a lot of clothing options when I was growing up. Back then my mom would take me to the same store that she shopped in. There was no Forever 21 or Torrid back then for us. It was very, very difficult to feel good about your body when you couldn't really dress your body the way that you wanted to as a younger girl. But it didn't mean that I didn't like myself, I just didn't like not being able to dress myself the way I wanted to. Our clothing options have exploded over the years, we have so many more options now.
The only time when I really had a questionable period was a couple of years ago when I was diagnosed with multiple sclerosis. My whole life revolves around women being positive about their body image and about their body, and yet my own body was attacking me so it was kind of hard for me to say to myself that this is what I do for a living — I'm trying to empower women and support this industry, and yet my own body is my enemy. That was a little bit difficult and I had to go through some moments where I had to realize what I was doing and why I was doing it and really connect the fact that one had nothing to do with the other.
SS: What advice would you give someone who is insecure about her body?
MJ: Allow yourself some time to really take in what your body is and who you are as a person. We are more than our bodies, we are more than our weight, we are more than the size of our shirts and our dresses. Every single day you should look at yourself and say I am beautiful and I am a good person, and you should regularly do something for yourself. Surround yourself with positive people and getting into plus size communities is also very positive. A lot of women have felt comfort from reading blogs — they're always looking at ways to put clothes together for plus size women. So reading online at these blogs will really help that woman with her body image. I think it's really trying to be positive about allowing yourself time to do it, because not everybody feels a hundred percent all the time — skinny or fat. We all have bad days. There are bad hair days, nothing fits us today, nothing looks good on us today, we all go through it. So it's not because you're fat, it's because you're a human being.