Poll on March Madness at the Office
Are You Participating in Office March Madness?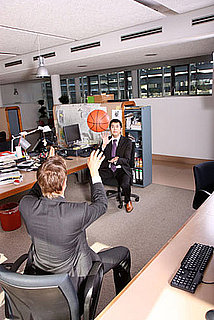 You don't have to be a basketball fan to enter March Madness pools. Between the 45 percent of office workers who participate in their office pools, I'm betting not everyone is a die-hard fan, and this time of year, it's pretty common to join in on the fun — so much so that not even employers are caught off guard by the event.
If past years are any indication, March Madness isn't exactly a work-productivity booster. This year, there may be an estimated $1.8 billion in employee losses when pools in the office can mean about 20 minutes of employee time lost on basketball, i.e. not working. Still, there are employers out there who embrace the time, touting it as "a powerful social process [that] builds relationships and rituals within the group. Everyone is included." In short, the kind of team-building effect that a company might "pay an expert" for, but "March Madness does it for free." What's the take on March Madness at your office? Are you getting in on the action?