Pressed Leaf Decoration
Beautiful Pressed Fall Leaf Decoration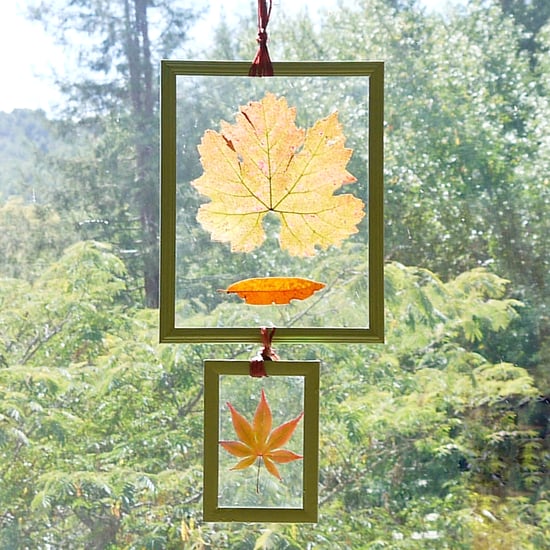 If you've got a pile of freshly fallen Fall leaves on your sidewalk, select a few to make a pretty pressed leaf decoration that costs just a few dollars. Hang in a window or prop against a wall for instant Autumn decor. Get creative and arrange the leaves in an eye-catching design or simply pick one large leaf to showcase. For a really neat look, create several pressed-leaf arrangements and hang them together for an eye-catching window display.
Read on for the directions.
What You'll Need:
2 picture frames
Pressed leaves
Spray paint (optional)
Newspaper
Hot glue gun
Raffia (optional)
Directions:
Start by gathering a collection of leaves and pressing them between pages of a heavy book overnight or for a few days. Pressing the leaves releases some of the moisture and makes them nice and flat. While waiting on the leaves, you can prep your materials by unwrapping the picture frames and removing the glass.
For this DIY, you're only going to use one picture frame from the set, but both panes of glass. For an extra pop of color, give the frames a quick spritz of spray paint, touching up as needed.
Let the frames dry overnight while the leaves are pressing. The next day, select the pressed leaves for creating the Fall decoration. Place a sheet of newspaper over your work surface, and position the panes of glass on either side of each other. Give the glass a quick cleaning, and then arrange the leaves.
To seal the panes together, give each corner a little dab of hot glue. If you're planning on using a bit of raffia to hang the picture, feed some around the top of the frame, and along the bottom if planning on attaching another frame. Now carefully reposition the glued panes into the picture frame and secure with more hot glue around the inside edges of the frame.
Once the hot glue is dry, tie the raffia to secure the frames, and you're ready to hang the decoration! Or, ditch the raffia and prop the finished decorations next to each other on your mantel or dresser.