Reaction to Whole Foods's New Employee Health Benefits
BMI-Based Health Benefits: Brilliant or Baffling?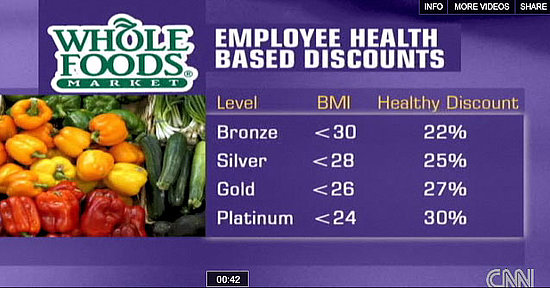 In a new health benefits program offered by Whole Foods, employees who don't smoke and have a low body mass index (BMI), low blood pressure and cholesterol are about to be rewarded for their good health. On the flip side, that means the new initiative, aimed to promote a healthy lifestyle, will offer fewer rewards and a lower discount to employees who don't meet the company's health criteria.
I'm all for a workplace that recognizes and fosters healthy living, but as Fit points out, the "healthy" requirements employees must meet are a little suspect — not to mention an invasion of privacy. Keep in mind, employees can opt out of the new program, but their current employee discount of 20 percent is even less than the bronze-ranked employee discount (22 percent) under the new program. So what do you think? Is this initiative a step in a healthier direction or does a program like this seem inappropriate in the workplace?