Relationships at the Workplace
The Office: All About Romance at the Workplace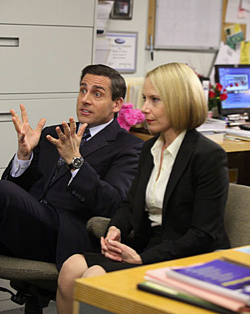 There was a lot of lip smacking between Michael and Holly on last night's episode of The Office, and as we all know, too much PDA is always a big professional no-no. However, 60 percent of you think that relationships at the workplace are acceptable. It also likely depends on how you conduct yourself in public with your office sweetheart. If you're thinking of embarking on an office romance, you might be interested in these results from a Match.com survey:
36 percent would consider dating a co-worker, but 12 percent of respondents have dated their colleague in the last five years.
The majority of relationships that surface from work last less than three months.
More than half of the people polled said that the breaking up didn't affect their professional relationship.
Six percent of people admitted to dating their bosses.
What do you think of the research — are you surprised by the findings?