Rent a House to Save on Vacation
Savvy Tip: Forgo the Hotel Room and Get a Whole House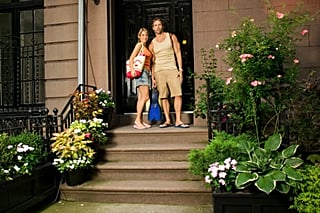 For my sister's birthday, we all migrated to the Big Apple to celebrate in style. She has her own place there, but finding rooms for the rest of us — my parents, my brother, and me, plus our significant others (three couples in total) — presented a bit of a challenge. Staying in Manhattan at any nice hotel is always a pretty costly vacation — especially if you need three separate rooms. A four- or five-day trip could easily run you well over $2,000 for three rooms, especially when you factor in hotel breakfasts and tips for bellhop and housekeeping services.
Luckily, my savvy sister came to the rescue! After a little researching, she found a deal on a three-bedroom residence. That's right — instead of a fancy New York hotel, she scored us some much more spacious digs at a house in the residential West Village, for about a fraction of the hotel cost.
To hear what I thought of my stay just
.
The bonuses of having a house for our city stay were huge. We had a full kitchen to stock with our own food, which chopped our restaurant bills significantly, especially for smaller meals like breakfast and snack time — which meant we could indulge when it came time for dinner out. Having a place all to ourselves meant more time for family, too. We didn't have to waste time plotting logistics and plans to meet up and loved having the whole house to ourselves to stretch out — forget being crammed and separated in our own hotel rooms. Additionally, the house served as a great space to host my sister's party. Our party guests loved the intimate house-party vibe, and hosting the celebration at our own place meant no additional fees to rent out a bar or restaurant.
Overall, our stay in New York was all about family and fun — and less about costs and fees. The rental allowed us freedom that a hotel never would and made a five-day stay for six people totally affordable. If you're interested in a little va-cay of your own, you might check out Rentals.com or even Craigslist to find some great deals. You might just be surprised at what's available and at what costs you could score your own luxury home retreat. Have you ever rented a house while traveling?