Researchers Track Country's Emotions Through Twitter
Twitter Says We're Happiest on Sunday, Gloomy on Thursday
Twitter TMI may be paying off after all. Researchers from the Northeastern University College of Computer and Information Sciences and from Harvard Medical School have been analyzing tweets to gauge when we're feeling our best and worst. More specifically, which day of the week and at what time.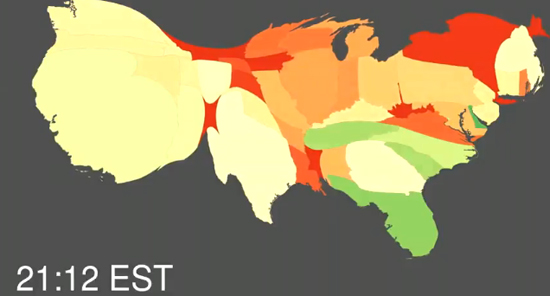 The project — called the Pulse of the Nation: U.S. Mood Throughout the Day Inferred From Twitter — has looked at more than 300 million tweets that were sent between September 2006 and August 2009, creating maps to visualize the data. The sizes of the states reflect how many tweets are coming from them, and the color reflects the mood of the tweet. Green areas on the map are the most happy, and red indicates unhappiness. And while some of the findings have been a little expected — on weekdays, people are happiest when they're not at work — others were a bit more revealing. Find out more after the jump.
For one, Twitter users on the West Coast are happier than users on the East Coast. And happiness on Twitter seems to peak on Sunday mornings. Lazy days, long brunches, and the NYT crossword puzzle, I'm guessing.