The Richest Politicians on the Forbes 400 List
Political Enrichment: The 9 Wealthiest US Statesmen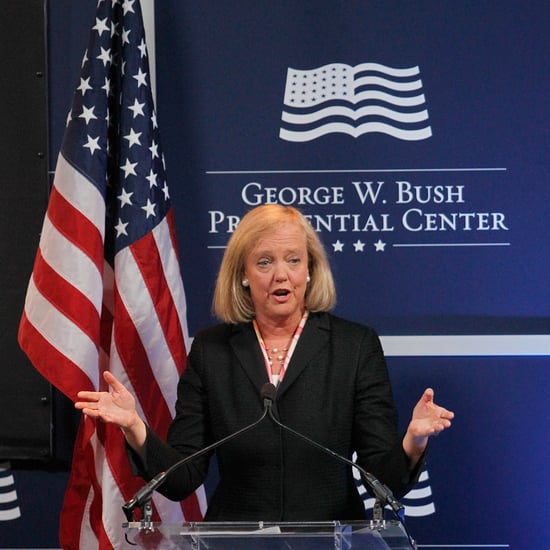 Forbes released its list of the 400 richest people in America last week, and with the financial successes of Republican presidential candidates Mitt Romney and Jon Huntsman bubbling up as hot-button topics during this election season, we were curious as to which politicians — current, former, or aspiring — made the cut this year. So just who are the nine richest politicians? Hint: the aforementioned campaigners didn't even come close!
Meg Whitman. Worth a reported $1.7 billion, the former CEO of eBay spent $144 million of her own money on her bid for the California gubernatorial seat in 2010. Though she lost the election to Jerry Brown, she won the top spot at Hewlett-Packard just a year later.
Glen Taylor. After a nine-year stint as a Minnesota state senator in the '80s, Republican Glen Taylor plunked down a chunk of his fortune made from his days in the printing industry to buy the majority ownership of the Minnesota Timberwolves professional basketball team. He is reportedly worth $1.7 billion today.
Jeff Greene. Real estate helped this mogul earn his billionaire status, and in 2010 he put his money where his mouth is by running as a Democrat for US Senate. Ultimately, he lost the primary election to Kendrick Meek, but his present-day $2.2 billion valuation isn't too shabby.
For the six richest politicians, just keep reading.
J.B. Pritzker. One of 10 Pritzkers to make the Forbes 400 list this year, J.B. Pritzker is an heir to the Hyatt fortune but built up his own $2.5 billion net worth through the private equity and venture capital firm that he founded with his brother Tony. In 1998, he ran for US Congress but lost the primary for Illinois's 9th US Congressional District.
John Catsimatidis. His dabblings in everything from groceries to oil to real estate have created a net worth of $3 billion for this tycoon, but his more recent interests lie in politics. He hinted at a bid for New York City mayor in 2009 but withdrew after incumbent Mayor Michael Bloomberg lobbied to extend term limits for a third term. Recently, he expressed interest in seeking the mayoral seat in 2013.

Donald Trump

. He rules the boardroom on The Apprentice, but this TV and real estate mogul worth $3.1 billion has long held dreams of achieving this nation's highest office. After rumblings of his running for president as a Reform Party candidate in 2000 and as a Republican in 2004 and 2008, the rumors became more serious as the 2012 primaries approached, but he ultimately announced last Spring that he would not run . . . at least, not quite yet.
Ross Perot. Though he founded Electronic Data Systems and Perot Systems and sold them to major corporations (General Motors and Dell, respectively), the spunky Texan is perhaps best known as the 1992 disruptive independent presidential candidate and the founder of the Reform Party (and its first presidential candidate in 1996). Today, he's reportedly worth $3.5 billion.
Michael Bloomberg. Being the founder of Bloomberg LP, a financial data services company, catapulted Michael Bloomberg to today's $25 billion net worth and his standing as the 10th richest person in the US on the Forbes 400 list, but it's his career in politics that made him a household name. He won the New York City mayoral spot as a Republican in 2001 and successfully defended his seat in 2005. In 2009, he ran for his third term as an independent candidate.
David Koch. Alongside his brother, David Koch founded Koch Industries, which today is the second largest privately held company in the US and earned each brother a net worth of $31 billion (and fourth place on the Forbes 400 list). But in 1980, he was the vice-presidential candidate on the Libertarian Party ticket with presidential candidate Ed Clark. Together, they advocated to abolish Social Security, the Federal Reserve Board, welfare, minimum-wage laws, and corporate taxes. And though they garnered only 1.1 percent of the total vote that year, they had the party's best showing to date.