Is It Rude to Text During Meetings?
Texting During Meetings: Rude or Necessary?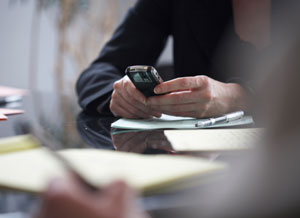 The majority has spoken on texting while driving and texting while dining; it's not OK in either circumstance. But now text messaging has reared its ugly little head in yet another inappropriate location: the workplace. Specifically, workplace meetings.
Professor and researcher Christine Pearson has studied the effects of technology on how we treat each other at work — and written about it in a recent book and New York Times column — and the topic is catching on big time. City officials in Danvers, MA, and Provo, UT, have proposed texting bans during council meetings, and general consensus seems to be that, although most people do it, texting (and checking email and Facebook) during meetings is just plain rude.
What are your thoughts? Is texting during meetings a sign of increasing "incivility" in the workplace, as Pearson says? Or are some industries just too fast-paced and tech-oriented to keep messaging out of meetings?