Safety Pin Bracelet
Get Crafty! Chic Safety Pin Bracelet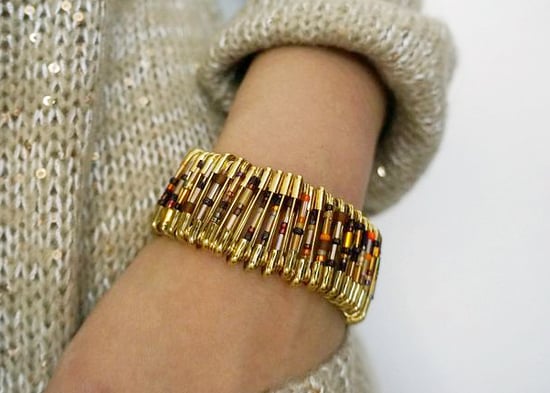 You'd be surprised at how sophisticated a safety pin bracelet can look. Not only is it beautiful, but it also makes a very eco-friendly fashion statement. You're basically turning regular household items into a glamorous addition to your jewelry box.
The beauty of the safety pin bracelet is that anyone can make it. All it takes is some common craft materials and a lot of time. Did I mention that these bracelets would only cost you a few dollars to make?
Keep reading for simple directions.
What You'll Need:
Safety pins
Beads
Elastic string
Mini pliers
Directions:

Gather your materials together — safety pins, beads, elastic string, and pliers. Be careful when choosing your beads. The key to make it look sophisticated is to choose the right shade of beads, something that complements the color of pin. Think warm tones like amber when pairing up with a gold safety pin and monochrome or cool shades like blue with silver. You need to also make sure that the color of the beads blends well together, because the rainbow look may be more suitable for young girls.
Start sliding beads onto the safety pin and leave enough space on the pin that it'll be a tight fit when you close it. Consider alternating the placement of the beads to make the piece look unique.
Remember to grab a pair of pliers and to squeeze down on the head of the safety pin, so there's no danger of the pin coming loose and pricking you.
Measure the elastic string around your wrist so it goes around it twice (you want to leave some space for the knots). Thread the safety pins together. Alternate between one safety pin without beads and one with beads to shorten the time on this project. Alternate the top and bottom of the safety pins as well, so that the width of the bracelet comes out even.
Thread the other side of the bracelet together if you haven't been threading both ends of the safety pins at the same time.
Knot up the ends of the elastic so the safety pins are held tightly together. Then, wrap it around your wrist and see if you need to adjust the length. It should feel snug around your wrist. If the length is good, bring both ends of the bracelet together and tie them up tightly. Finally, snip off the ends of the elastic.