Salt-Dough Gift Tags
Adorable Ornaments That Double as Gift Tags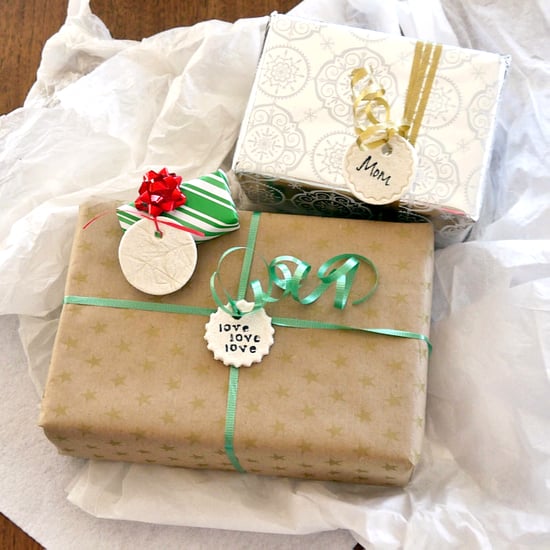 Get everything you need from the dollar store to make these salt-dough gift tags that hardly look homemade. This recipe also creates cute holiday ornaments that are so chic. Make on your own, or gather your gal pals for a fun night of getting crafty. You can even make these with your nieces and nephews!
Read on for the directions.
What You'll Need:
Mixing bowl
Spoon
2 cups flour
1 cup salt
1 cup warm water
Parchment paper
Rolling pin
A variety of cookie cutters
Toothpick (optional)
Tempera paint (optional)
Glitter (optional)
Sheet pan
Directions:
Mix together the flour and salt, giving the ingredients a stir to make sure they're incorporated. Slowly add the warm water, and stir until the mixture comes together.
Cover your work area with parchment paper, and roll small rounds of the dough, dusting with flour as needed until it's around one-fourth-inch thick. Use cookie cutters to create shapes, and then decorate the gift tags with letter stamps or draw designs with a toothpick. And you can create colors by adding a few drops of tempera paint or even a sprinkle of glitter. Don't forget to punch a hole at the top of tags for stringing to your packages!
Place the finished gift tags on a parchment-lined sheet pan, and let dry overnight.
Use the finished tags for embellishing holiday gifts or even for decorating around the house! And you can use a black marker to personalize the tags while wrapping presents.